When Ed Turco finished his six-inch "Definitive Newtonian Reflector" in 2015, one design feature that I really liked was his "Dark Bucket" light trap opposite the focuser for improving contrast. I had the privilege of setting up my Tardiscope next to his scope at Stellafane that year and can vouch for the effectiveness of what I like to call the TDB. This is a a darkened and flocked coffee can that really reduces a lot of the unwanted ambient light from being directly seen from the eyepiece. For reflectors with small secondaries this is really a worthwhile modification, in my humble opinion.
Ed's Dark Bucket also has a removable plug on the end that makes sense for allowing fan ventilation for his scope during initial cool down because his scope is otherwise enclosed with an optical window at the aperture end, and the secondary is mounted to that window to reduce diffraction. That plug also allows him access to his secondary. Such a plug wouldn't be needed for most scopes that adopt this idea of an inky black well that surrounds the secondary as seen from the focuser.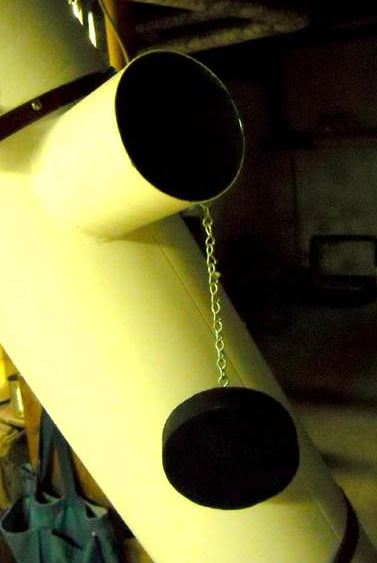 photo courtesy of Ed Turco and used with permission
As of now I haven't seen a single example of this feature seen anywhere else. I'm curious as whether anyone else has one to show or is willing to try adding such a feature after being introduced to this concept. If so, SHOW US YOUR TDB!!!
Edited by jtsenghas, 09 November 2018 - 12:26 PM.