This is my first post. I have been a member for a while and I'd thought I'd share a recent project I complete for my NexStar 4SE.
I had been searching for a solution to a common issue on the 4SE related to the scope shaking when attempting to fine focus objects. It could be done but it required a lot a patience and a steady hand. I had attempted several of the suggestions found on the forums but was not happy with the results. So, I decided to try to create a better solution.
What I came up with is a gearbox that can be mounted on the scope the reduces the focus by about 0.17. This allows for very fine focus and as a bonus also reduced the amount of shake in the scope. Keep in mind this was created mostly from spare parts I had sitting on the shelf and 3d printed parts. I will include a complete list below if anyone is interested.
Everything here can be adjusted except the two main shafts and timing gears The GT2 60 Tooth and the GT2 16 Tooth. Changing those will change the required length of the belt (GT2-200). All the rest of the gears can be adjusted to fit your needs.
In the pictures I did not have a spare 5mm collar for the top shaft, so I just used a spare timing gear in its place. Keeps the shaft from sliding out.
Some sanding and fitting may need to be done to the supports to get them to fit snug. The pin bearings are just press fit into the sides of the gearbox. And the shaft lengths could be reduced. 100mm is just what I had. Anything longer than 60mm should work.
A couple of things to note and things I may change if I revise the design. Near Zenith the gearbox will fit the WiFi module if you are using one. All the printer parts were printed with 1mm wall thickness and 50% infill. I wanted to be sure they were stiff enough. Probably overkill.
SLT Files will be in a second post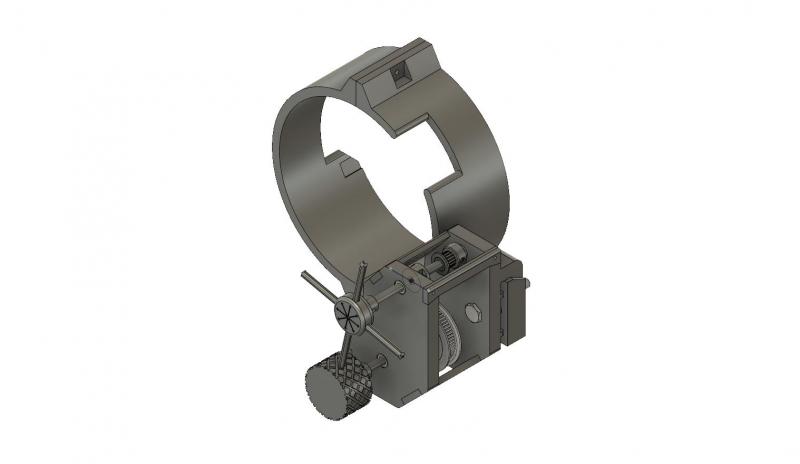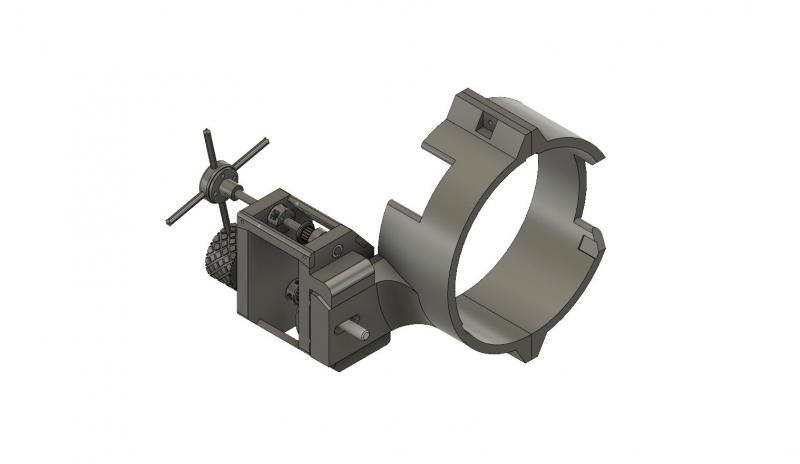 Parts List (From Amazon)
Magic&shell 2-Pack 5mm Flange Shaft Coupling High Hardness Metal Axis Bearing Fittings DIY Model Accessory Rigid Flange Guide Shaft Coupler Motor Connector
BEMONOC 2GT Rubber Timing Belt 160-2GT-6 L=160mm W=6mm 80 Teeth in Closed Loop for 3D Printer Pack of 10pcs
Aluminum GT2 5mm Inner Diameter Timing Belt Pulleys 60 Tooth 60T 5mm Bore for 3D Printer
Sutemribor 5mm x 100mm Model Straight Metal Round Shaft Rod Bars for DIY RC Car, RC Helicopter Airplane (5 PCS)
Zzanggu GT2 Timing Belt Pulley 30 Teeth Bore 5mm(2pcs), Aluminum Synchronous Wheel for 3D Printer 6mm Width Timing Belt
uxcell HK0509 Drawn Cup Needle Roller Bearings, Open End, 5mm Bore Dia, 9mm OD, 9mm Width (Pack of 10)
DROK 5PCS Aluminum GT2 Timing Belt Pulley 16 Teeth Bore 5mm Width 6mm and Wrench for RepRap 3D Printer Prusa i3
BEMONOC 2GT/GT2 Timing Belt 200-2GT-6 100 Teeth Rubber Drive Belt 200mm Length 6mm Width in Closed Loop for 3D Printer 10pcs/pack
Hex Socket Head Cap Bolts Screws Nuts - M2x8 (16) / M3x (12) with nut
304 Stainless Steel Screws Nuts and Washers 1200PCS, Sutemribor M2 M3 M4 Hex Socket Head Cap Bolts Screws Nuts Washers Assortment Kit with Three Hex Wrenches
Hex Bolt Std ¼" x 1 ½" (1) with Butter fly nut. (Home Depot from the loose bolts bins)