SkySafari double star observing lists assembled from Burnham's Celestial Handbook, are now available for download for any of the 88 constellations. To download an individual observing list, follow these steps:
Obtain a LiveSky.com account - their free version works fine.
Log in to your account.
From the list below, click on the constellation name, which loads a web page that will facilitate the download.
On that page click on the download icon to the right of the constellation name.
Choose the file format to download. This will initiate downloading the constellation's double star observing list.
Import the list into your copy SkySafari.
Notes:
There are a few instances where stars in an observing list are now actually in an adjacent constellation. This is because in such a case precession has changed the coordinates of the pair to move it across the constellation boundary. There is at least one instance that, even allowing for precession, a double star is just shown in the wrong constellation in Burnham's list. But for consistency these doubles have been left in the same constellation as shown in Burnham's Celestial Handbook.
There will also be a some outright errors in the entries in these lists. Feel free to correct these in your own copy of the list. With these errors it would also be helpful if you can inform via private message, so correction can be made.
These SkySafari double star observing lists were assembled with the intent they would add to your enjoyment in observing these interesting celestial objects. Clear Skies!

Total = 5,261 doubles
The following table of double star catalog equivalents may be of use.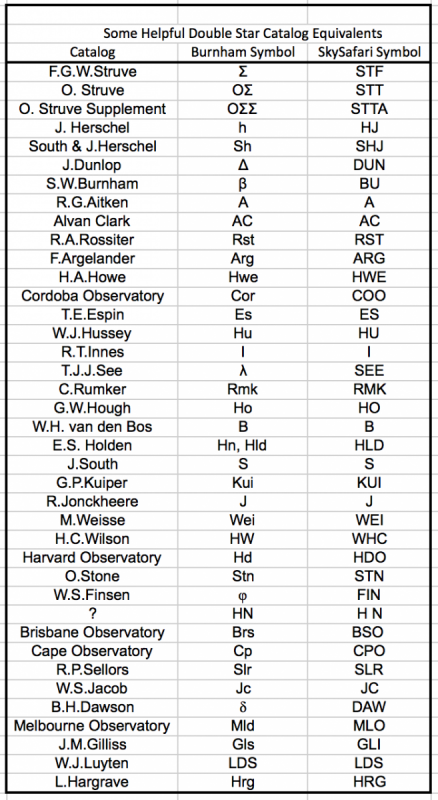 Also the list found in the following Cloudy Nights thread is useful.
Edited by Rustler46, 23 November 2018 - 10:50 PM.