The 50th Anniversary Questars come up for sale rarely, maybe every couple years at most. When they have in the past, they command a $5000-6000 price this collector just can't handle (I don't think I've paid more than $2000 for a 3.5 after adjustments for package extras). But...

Exactly a week ago almost to the hour I'm giving my toddler his evening bath, and happen to glance at my silenced phone (discouraged during family time). By luck of amazing timing, I spot the first 50th listed on Ebay in the several recent years I've been following. It's a BUY-IT-NOW listed 15 minutes earlier for $2500 (or opening bid of $1800) - too good to be true? - so I race to look at the description for some fatal flaw like broken or missing optics. The few photos they have are OK, with some weirdness to the knobs. Zero feedback seller. So I go for it knowing Ebay has buyer protection.

I lose sleep that night expecting a phony "sorry it's been sold and not available" or "please send payment by Western Union." Instead I awake to a nice message answering some questions from what turns out to be the astronomy teacher at a respected private school within 50 miles of the Questar factory. This was a donation from an alumnus, was used by students, and was now being sold to raise money for a more permanent college-level observatory for the students to conduct research.
The scope arrived today (four long days after USPS said it would arrive) and I'm delighted. It appears to be in perfect condition except as noted below. Paint, barrel, dew shield, badges are all pristine. The original bright-rimmed lens cap is perfect.
But it's basically a bare scope, so the great price might be a little closer to market price than it seems at first glance - you can add up up the full cost of replacement parts including solar filter and case as well as a factory service and it might well add $2000+ to the cost.
It's a fun new project, most of which requires simply sourcing parts, plus lots of the usual clean, lube, and drive service:
I already have the proper case, that I fortuitously bought on Ebay last year (the new leather one with the combination locks).
I have more than one full aperture solar filter on hand to make part of the kit.
I need to source all three threaded tabletop tripod legs (~$200)
I need a Powerguide II control paddle. I hope Questar has one of these lying around from upgrades to PGIII. (~$100 if they have it?). The alternative is to upgrade to PGIII (not a real interest for me) or downgrade to PG1 (my favorite, I have a donor on hand) or AC (unlikely).
No documentation or certification - unlikely Questar stores these for reprinting but I'll ask.
The 24mm "QUESTAR 50TH BRANDON" was happily included, as was a regular Questar 32mm Brandon. It would be nice to find a 50th 16mm sometime - but that search might go on for decades!
The Declination and brake knobs seem to have significant corrosion spots that I doubt will clean up. Some of the other knobs may have minor such spots. I may order factory replacements, or just resurface them as I have on other restorations. ($50-100 depending on how many I replace, if any)
At least the Declination drive needs a service, unless an adjustment will resolve - it rarely does. And when one drive is gone the other isn't far behind so should be done. It steers, but slips when braked. When in doubt, do the drives.
Declination knob is loose, and brake doesn't grip well - may need new washers.
The base is good - no dings, but could use a good polishing. I'd like to give this a mirror finish, so a full take-down with wet sanding will go along with drive service. It's would probably be fine with just polish - we'll see.
The drive base plate has quite a bit of 1/4-20 rash, but that's part of its history inspiring young minds and not important.
Control box needs lubrication of moving parts, the finder prism action is a little sticky.
With a scope in this good condition and value, I'm glad to have plenty of experience with the familiar servicing needs, but there might be a touch of butterflies more than usual.
And one idea that I'd like opinions on the craziness of: If I'm talking down the arms for drive service, I'm sorely tempted to polish the edges like I prefer from the "they don't make 'em like they used to" years - as I did on my very first mount restoration. Some might be appalled at making it non-stock, but I'm very tempted to enhance it in a way that makes my #59 special. The fact that it's not a pristine kit makes it easier to contemplate. I'm trying to think of a car restoration analogy, and I suppose it's like deciding whether to restore to original condition, or to enhance to Concours condition. Opinions are welcome from

to

.
Here it is on arrival today with my chief tester: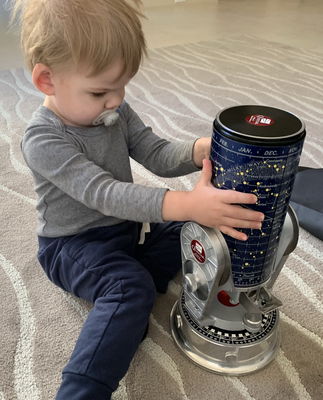 And yes, I consider myself a lucky man for this, and for many other reasons to be thankful in this season of thanksgiving.