Shot the comet again last night, this time through the C5/750. I was hoping to guide on the comet itself, but even 30 second shutters were still too low of SNR for PHD2 to track. And at 750mm, only 10 seconds of comet movement were streak-free—indeed, my post-op found that the comet moved 44 pixels in 489 seconds or 0.09 pixels/second—so it wasn't going to happen. At ISO6400, I needed way more than the paltry 300 seconds that I captured for a clean coma, but it was good enough to provide a nice view of the nucleus: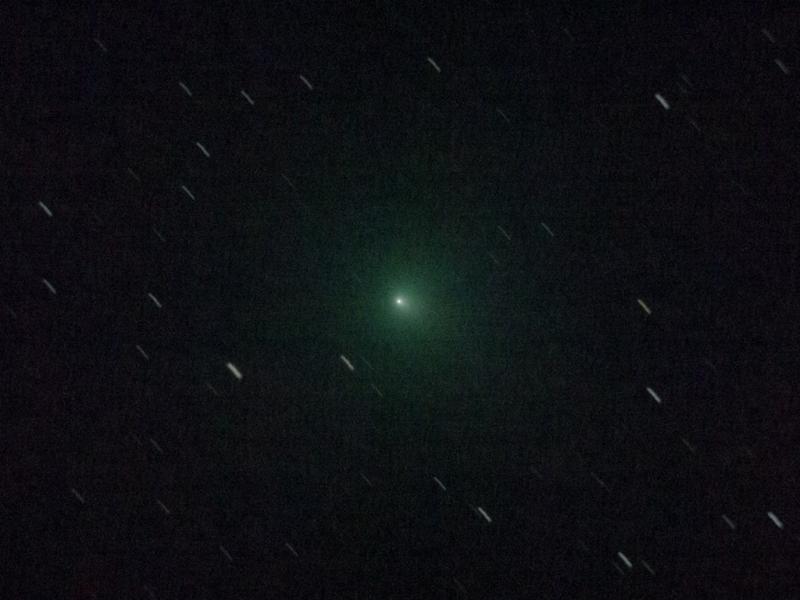 Comet 46P/Wirtanen 2018-12-06 13:10-13:19 UTC, 75˚ elevation
Celestron C5/750 (750mm f/6 SCT) prime, Canon T3i, 31×10 sec@ISO6400, 6 darks
Star autoguided via Orion SkyView Pro mount
Aligned and stacked in Lynkeos 2.10
Scaled to 50%, cropped to 1024x768
Processed in Photoshop CS5
Tropic of Capricorn, NT, Australia
Cheers,
BQ
Edited by BQ Octantis, 07 December 2018 - 02:49 AM.