About a month ago, I posted about how I use a Nikon 300mm f:2.8 manual camera lens with a Mod 3C night vision for taking images with my phone. The typical way of connecting the lens to the NVD is to use a Nikon to C-mount adapter. But I discovered a less expensive mechanism that is also more versatile. I find myself using it much more often than the Nikon adapter.
For this system, I found an Ebay off-brand Nikon F mount to M42 (same as TT or T2) male thread adapter that has a short optical path of about 8mm. Then I apply a ScopeStuff C-mount to M42 adapter that screws directly into the NVD (Night Vision Device). Changing camera lenses with this system is just like changing them on a camera body; push a release button and twist the F-mount lens. Here is a photo of the lens attached to the NVD and the iPhone attached to the NVD.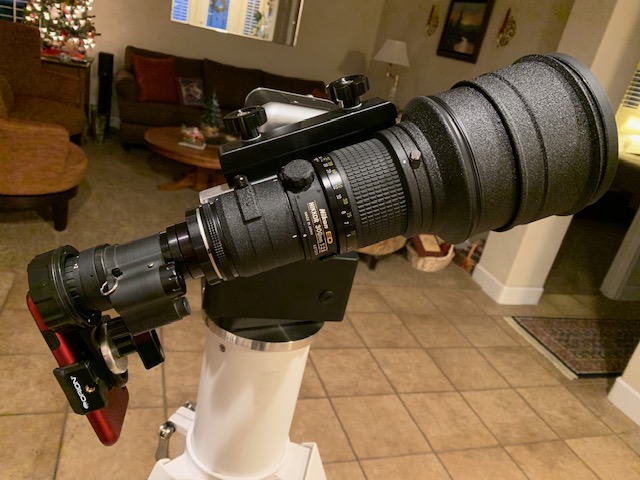 You can see a series of photos taken with this system, including the Pelican, N.A., Heart, California, IC 1318B (associated with Gamma Cygni), Soul and Gamma Cygni Nebulae here:
The Nikon 300mm lens has an objective that is 110mm in diameter, making it as potent as a 4" telescope but at a fast f:2.8 focal ratio and in a package that is only 12" long. With the NVD it provides a 3.3° FoV at 11x. With the addition of a Nikon 1.4x teleconverter, it gives 15.5x at 2.4°. If I need a larger FoV, I can quickly change camera lenses to a 180mm (5.6°), 105mm (9.5°) or 50mm (20°). Because the filter is behind the camera lens within the adapter, I am able to use a 1.25" filter instead of a custom filter for the front of the camera lens. And the filter stays in the adapter for quickly changing lenses.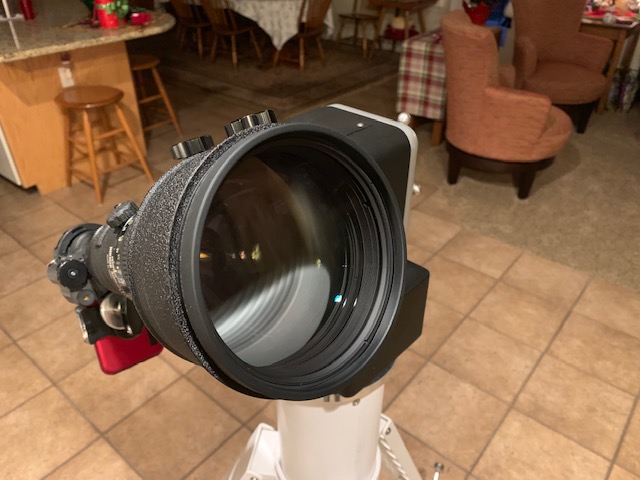 The ONLY drawback is that it cannot use a diagonal... so it is a straight through, neck craning, trifocal experience for its 70 yr. old user! But it's hard to argue with the photo results it produces.
Now, I said that the adapter I cobbled together was more versatile. Using another ScopeStuff adapter called a filter capture ring, I am able to place an IR or H-a filter very close to the C-mount connection at the NVD. This close connection prevents vignetting and so far, I have not seen any sign of band-shift... both a big plus when taking photos in H-a.
I also use this adapter to make the camera lens a small, potent scope... using a diagonal! I read an article a few years ago about a "proof of concept" using a .965" diagonal mounted to a rear lens cap on camera lenses. So I set about making a system that does perform very well. I used a generic .965 diagonal body, removing the nose and eyepiece holder. The eyepiece holder side of the diagonal has C-mount threads. The barrel/nose side has some odd metric thread. I removed the barrel/nose, and parted it off near the base where it screws into the diagonal then took it to a machine shop to have it threaded to match the threads on my old Pentax .965" Ortho eyepieces, sans their barrel. To change eyepieces, I must unscrew it from the diagonal to then screw in another. This is more time consuming than dropping an eyepiece into a diagonal, but it works OK and makes a very secure system.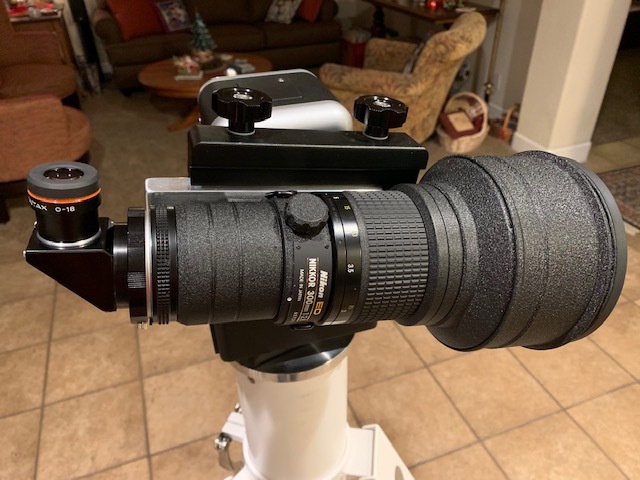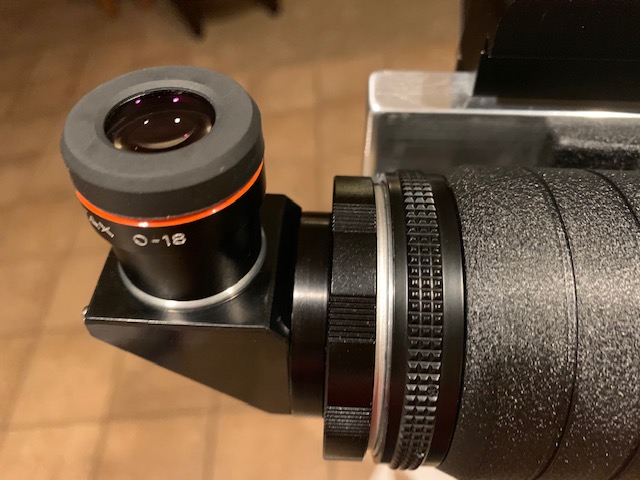 How's the image? It is excellent. I made and attached a Vixen size dovetail for the lens to mount on my AZ Pro for GoTo, but it also fits a light CF tripod with a small alt/az mount that I made. So it is providing some excellent low to mid-power views. I have used the 18mm eyepiece and I have tried but not really used 6 & 7mm eyepieces. They all perform well. I have also used a Nikon 1.4x teleconverter with the lens and diagonal assembly which extends the reach of this tiny telescope. With the 7 & 18mm eyepieces and the 1.4x teleconverter, magnification can range from 16x to 60x.
I've always thought it is a benefit when our tools can do double or triple duty. If you are interested in making one of your old, manual camera lenses into a more useful bit of astro kit, but you don't have the means to make the parts, there is a Kenko adapter that will turn your camera lens into a spotting scope... the only downside is a non-changeable 10mm eyepiece... but they are made to mount to all major brand camera lenses. Here's a link to the Nikon model:
https://www.adorama....rce=rflAID12417
Clear Skies.