G'day all,
I was out shooting the comet last night on my EQ2—so out in the middle of my yard with a good view of the LMC. After plenty of exposures on the comet through the 200mm, I couldn't help but shoot the LMC. I gave it another go through the 50mm (which I did at the beginning of the year)—but this time with the autoguider hack. Since last year, I also now have a library of darks (recently at high temperatures—it's been bloody HOT!). I also snapped some flats for the 50mm. Here's the outcome: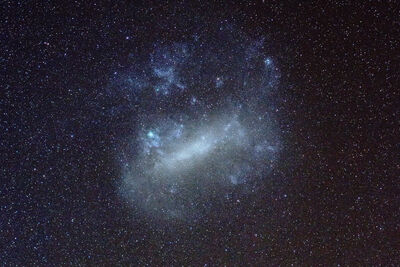 Large Magellanic Cloud, 2018-12-10
Canon 50mm f/1.8 Mk1@f/2.8, Canon T3i
29×30sec@ISO800, 20×darks, 20×flats
EQ2 mount w/hacked controller
Orion Magnificent Mini Deluxe autoguider
Aligned and stacked in Lynkeos 2.10
Processed in Photoshop CS5 w/Astronomy Tools v1.6
Scaled to 50% full sensor, cropped to 1440x960
Tropic of Capricorn, NT Australia
Cheers,
BQ
Edited by BQ Octantis, 12 December 2018 - 12:04 AM.