Still fairly low here but saw it well naked eye: possibly 4.8- 5.0, but more crudely from simple comparison viewpoint I might describe it thus……….
This was a particularly good sky and as M33 was well enough visible with direct vision (high overhead) I rather felt that the comet was around 2/5 & 3/5 in brightness twixt that of M33 & M31. Not that I would submit such a judgement as a formal estimate, but just to convey the impression.
As I say a very good sky (very clear overhead) with a scattering of a few faint stars northward of M33 suggesting I was seeing to 6.8 – maybe 7.0 (av) – a 5.8 star close east of them being very easy and a 6.3 star well seen with direct vision (dv).
A striking sight in the 20x100s but the view with the D-K showing well the cool-green glow almost filling the field; also a fair bit structure apparent decided me to sketch that scene.
Spent a tiring day yesterday trying to get a good 'scan' of this sketch and again this morning: camera fault……….but seems to have fixed itself – after a good cussing……….!!!
Those tail-filament features were only surely seen by av and sweeping across/in RA, so not claiming accurate placement; but a couple of more northerly 'clumps' were well seen directly – getting me looking for more…….
Caught it again last night during a brief clearing but not as clear as the 9th; even so did not need much dark adaption to pick it out naked eye. When adapted it was very easy and it took av to pick out 6.0 stars in the region, and about 6.3 in that higher Triangulum field; M33 being uncertain with dv.
Dave.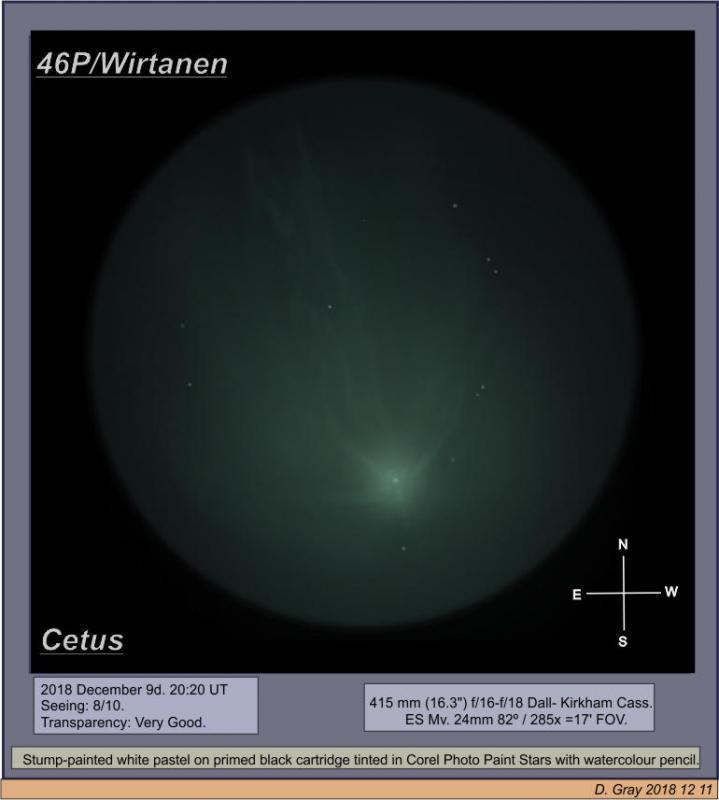 Edited by David Gray, 11 December 2018 - 09:53 AM.