It's been a while since I've posted a sketch here. So, here goes. I got out tonight and observed Comet 46P/Wirtanen and decided to break out the sketch kit and make a pencil sketch. The transparency was not so good tonight and soon after I made the sketch the clouds set in. I have been watching this comet for the past few nights in my 25x100 binoculars, but tonight I setup the Lightbridge 16 and let it cool for an hour or so with a fan blowing on the primary. I had the 25x100's setup and trained on the comet, but for some reason I had real problems finding it in the LB16, so I used the binoculars to find a star hopping route starting at Menkar in Cetus to 96 Kap1 Ceti to 97 Kap2 Ceti to HD21018 to the comet, which was nestled near HD21440 and just north of HD21243. Then, I followed the same star hopping route in the LB16 and found it. I thought the N26T5 eyepiece gave a good view, so I sketched it. So, here's my sketch.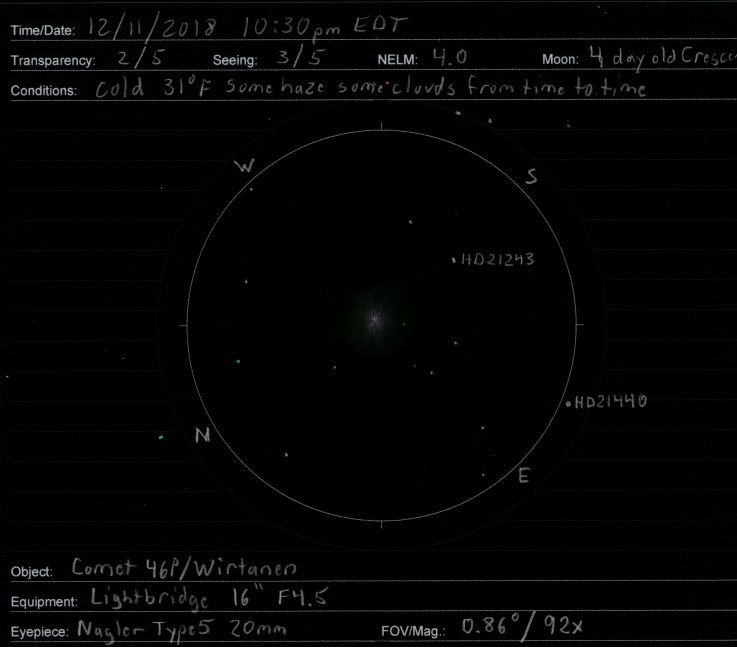 The scanner made it kind of grainy, but, in reality the nucleus faded smoothly into the gray background. HD21440 was just outside the FOV, but I plotted it anyway.
Thanks!
Correction: I used the N26T5 eyepiece for a 1.1 deg. TFoV and 70x magnification.
Edited by Slartibartfast, 12 December 2018 - 01:59 AM.