So,
often I see conversation about "plate solving" in AP forums
in reference to the an astrophotographer's acquisition phase of utilizing software to:
take an image
figure out where the image is located in reference to the universe
and automatically point the mount/sensor/optics towards where the user is intending to point.....
For precision's sake:
What I've been able to gather:
the term is much older than any software program.
it specifically refers to the process of coming up with a solution to the question:("where on a map of stars does the image refer?") [and maybe functionally annotate it for helpful current/later research]......
the "plate" is an old reference to the use of photographic plates in astrophotography that preceded the use of photographic film.*
In the olden days of plates the "solving" was NOT done with electronic computers and software.
--in fact, a short bit of research into "Pickering's Women" will point (pun intended) one towards stories of how women have significantly contributed to astronomy and astrophysics in the past. https://siarchives.s...pickering-women
*also see:
https://www.pbs.org/...tronomy-plates/
IMO the short speak of "plate solving" to refer to using a software program for the result of accurately point a telescope mount/OTA,
instead of the term used to specifically refer to the complex operation of figuring out the solution to the image alone,
contributes to a loss of an important part of astrophotography's history....
It may be a small distinction, but sometimes small distinctions are important in the area of astronomy (what do we call Pluto?).....
I blame the software developers that are the major culprits, as the action should be labeled "Capture,Solve, and Point."
All are free to use the "new tech term" colloquially to signify the entire process of capture/solve/point as most amateur astrophotographers are only using the solving process for such an outcome,
[although many stacking software programs do it for the purpose of precise alignment of each image in the stack and not to point mount/scope]
but for the sake of the ancients,
at least remember that it is short speak!

**note the term "astrometric solving" is another current term to refer to the process (plate solving) for the immediate result of precise measurements (of where) given the image....
If anyone is able to give further historical light on the matter I'd be interested.....
Cheers!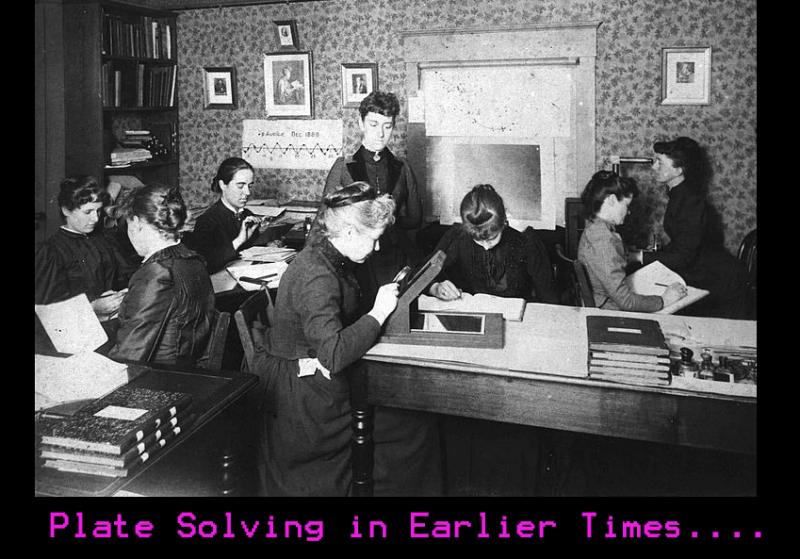 source image at:
https://en.wikipedia...d_computers.jpg