It's been a long-standing goal of mine to make a movie of the Uranus system in motion, and I captured a few days' worth in 2017. In October 2018, I had a much better go at it. For fourteen consecutive nights, I got a pic of the system using the same parameters every night except the fifth, when weather utterly refused to cooperate. Fourteen was a magic number for me because the period of the outermost of the bright moons, Oberon, has a period of 13.5 days. Oberon, then, is the main driver of this project.
Here are those frames composed into an animation. It's easy to watch Oberon cycle around, and not too hard to follow Titania, the second-furthest-out. The inner bright moons, Ariel and Umbriel, are easily visible in all frames, but they orbit so rapidly that their motion doesn't seem at all smooth. For the one night when I could not image, I inserted a frame with the moons marked with their initials.
Uranus is a delight for this because, presently, the moons never transit and they can be followed all the way around. Something similar could be done for Saturn, but the parameters are definitely less favorable – only Titan, probably, could be followed easily with the eye.
Gear: Celestron 9.25" SCT, AVX mount, ASI1600mm.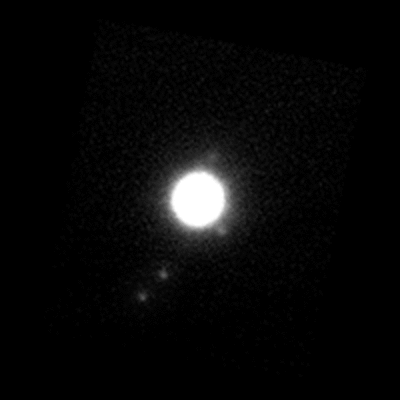 Edited by rehling, 16 December 2018 - 06:39 PM.