Plate solving has been used by AP/EAA ers for some time now to acquire/frame targets. This is an attempt to use a similar technology for visual astronomers.
Summary:
Take images with an inexpensive camera mounted on and aligned to a scope, plate solve them for location and hook it up to Sky Safari to display the current location the scope is pointed to in the sky, a Plate Solved Where Am I (PSWAI). I used the camera below, but the same techniques can be used with wide angle lens on other astronomy cameras as well.
The Camera:
A lot of people have been trying to use cheap security webcams for EAA with mixed results. Searching for such a cam landed me on the dashcamtalk pages of the Xiaomi Yi Action Cam a 2-3 year old action camera which is very accessable/hackable running a simple linux like kernel inside. It has a IMX206 or Panasonic MN34120PA, 1/2.3", 16MP CMOS image sensor. Functional modification includes adding an autoexec.ash file on the sd card in the camera. There are newer versions (4K) of this camera, but I am not sure they are as hackable.
Some related links to Xiaomi Yi Action Camera hacking:
https://www.tawbaware.com/xiaomiyi.htm
https://dashcamtalk....ion-camera.153/
https://nutseynuts.b...om-scripts.html
The Good:
Can control shutter speed up to 8sec. ISO upto 25600.
Can store images/videos on a micro sd card.
Has Wifi connectivity and a not very useful USB connectivity.
You can telnet (login) to it over wifi.
You can run a ftp server on it for file transfer over wifi.
Can enable a rtsp low res live view feed over wifi.
Has a hidden RAW+jpeg mode (not needed for this project). The RAW is without headers so you need something like Raw2Dng or Raw2Nef to convert it to a format, that processing apps like Deep Sky Stacker can use.
The battery is low capacity, but the camera works when attached to power through USB.
Light weight.
Hackable, lens can be replaced without too much trouble.
Has an app to control settings, take pictures.
The Bad:
The USB access is useless as connecting a computer to USB puts the camera into storage mode where no pictures can be taken.
Wifi is 2.4GHz and a very small range.
The battery is low capacity, and you need an external pack. They do sell piggyback powerpacks for it.
The included fisheye lens is not very useful.
Tiny pixels (1.35 um)
The Build:
A Xiaomi Yi Action Camera ($50-$60)
A replacement 50mm F/1.2 Lens with a M12 thread ($23) The included lens can be removed by taking the front cover off,and removing a little of the glue attaching it to the lens holder (look for youtube videos). This lens gives you about 7x5 degrees FOV which has enough stars for platesolve to work. The Camera has very deep M12 threads so normal webcam adapters don't work. But the M12 lens above works and has enough thread to adjust focus. It can possibly be glued once focused, but I did not need that. I got a lens without an IR filter, there are ones which come with a IR filter too. I found a way to add an IR filter as described later.
A light ball head mount ($5) to be able to easily move the camera to align with the scope. Not the best way to do this but works.
A linux/unix machine with astrometry.net plate solver downloaded and working. I use a Raspberry Pi 3B. It is better if the machine can do 2 network connections, one for the camera and one for sky safari. This is the fastest, as the camera has a wifi hotspot and connecting to it is the fastest way to download images. I use the wifi on a Raspberry Pi to connect to the Yi, and the ethernet connected to a travel router for connecting to sky safari and my home LAN.
A smartphone/tablet used to setup the camera settings and to run Sky Safari. It needs the Yi app (free) and Sky Safari Pro/Plus(?).
Optional:
An optional border frame. This comes with a 37mm thread and filter, you can get a 37-42mm adapter which lets you attach it to a T-adapter. This kind of mounting is much better if you want to connect the camera to a scope but it is not a must for this project. I use it to put a IR filter in front of the lens. If you get one of these frames, use a rubber band to secure it to the camera for times when you are taking the camera on/off a mount which requires taking off the 1/4-20 screw attaching the frame to the camera.
Orion 7033 Precision Slow-Motion Adapter (you may find used ones for around $30). This makes it a lot easier to align the camera with the scope.
A wiimote. This is an easy way to add a remote to a pi. You can also take images from a command line on a VNC session, or even run in a loop without a trigger.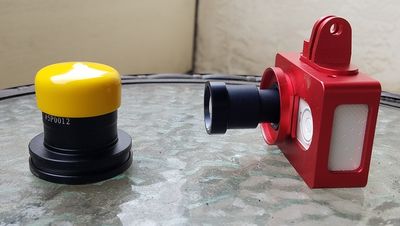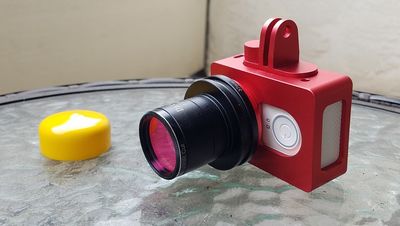 You need to get astrometry.net working locally on the machine, their website/github page has instructions. The rest are just scripts to take a picture, platesolve, and update sky safari. I use the Basic Encoder System on SkySafari and a GEM mount in the settings. I found that a smaller jpg for a 2.7s exposure can be solved in my Bortle 7 skies in about 20s on Raspberry Pi 3B. A 2.7s exposure on a 50mm lens on this camera produces round stars (so that platesolve works) even on non tracking mounts like my 8" Dob. Depending on your skies you might need to tweak the shutter speed/ISO settings. I have solve-field (from astrometry.net) dump the RA,Dec cooordinates to a file, and a python script faking an EQ encoder pick it up from there. Although I use astrometry.net, any plate solver which can be run as a command line and dump the center RA,Dec, can be used. The scripts are shell/python scripts which can run on linux/unix like computers. The wiimote, connected via bluetooth to the Pi is just an easy way to take a picture. I use the rumble mode on the wiimote to provide feedback if/when the command completed, one rumble for success, two rumbles for failure.
Pictures of the camera mounted on my scopes.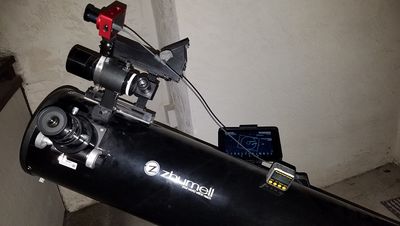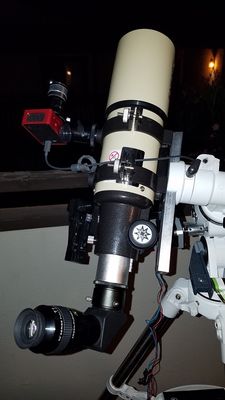 Workflow:
Prep off the field:
Start the camera with the appropriate autoexec.ash file in the sd card.
Connect to the camera on a phone app and select image size, turn leds off, turn off fisheye correction, setup auto wifi etc etc. All these are sticky across power cycles, so you need to do them the first time only.
On the field:
Align the camera to the scope. The phone app has a low res live view on which you can enable a 3x3 grid. Get a bright star in your scope and then move the ball head to get the star in the middle square of the 3x3 view. Doing this with a ball head without fine tune controls is the hardest part of the workflow. If you have the Orion Precision Slow-Motion Adapter it is much easier.
Start the software on the Pi/computer you use, connect the wiimote and skysafari.
Do a 2 star alignment on sky safari. This is to teach Sky safari the correspondence between the encoder values produced and the ra,dec of the star. One star alignment is enough, two is better. It also helps a little for EQ mounts if your alignment is off a little. You need to get a bright star/planet in the scope EP, click the wiimote to take a pic, wait for the computer to platesolve it, and update sky safari and once updated, align sky safari to that star/planet
Point the telescope where you want, click the wiimote, wait for the rumble and look at sky safari for your position.
Without getting into the nitty gritty, here is a picture of my VNC session on the Pi.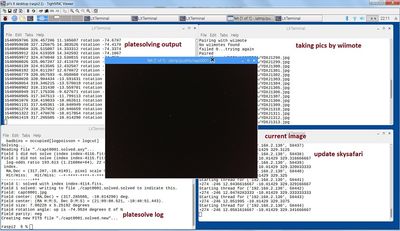 Performance & Accuracy:
On the Pi 3B, I can turn around the taking an picture to updating sky safari with the coordinates at 18-30 seconds depending on the night and sky conditions. On a laptop running ubuntu it is can be a little faster (the best I saw was 12 sec) . I even tried a Pi Zero W ($10) where it is about 40-50 seconds. Accuracy depends on your alignment to the scope and the lag. On my 8" Dob (camera mounted on the RACI with a hose clamp), the ES82 18mm EP (67x) is close with good alignment to the scope. Failing that I try to match it up in the 8x50 RACI which is easier. Have also used it on my Meade Adventure 80 (mounted on the rings) on the EXOS Nano EQ mount.
Pros and Cons:
Cons first:
The most obvious one is the lag between movement and update. If you are used to a encoder based pushto it will drive you nuts.
Needs a mount side computer to work, although a small one like a raspberry pi will do.
A lot of different hardware software components. When things go wrong needs a laptop to debug.
Pros:
Can be attached to most telescopes, Alt Az/EQ, from large Dobs to department store telescopes, (maybe even to Binos?). Usual camera 1/4-20 mount.
Is lightweight enough not to cause too many mounting porblems.
No wires needed to connect the computer to the camera. The camera will need a power source connect due to the terrible battery life.
Is portable across telescopes. Just need one camera. You can move it from one telescope to another very easily.
Easy to use. You can move the scope with slow motion, by loosening the clutches, by motors, whatever way you want to, as the camera is mounted on the OTA the alignment will hold.
Reasonably accurate.
A sample jpg of a 2.7 second exposure ISO 200 without an IR filter.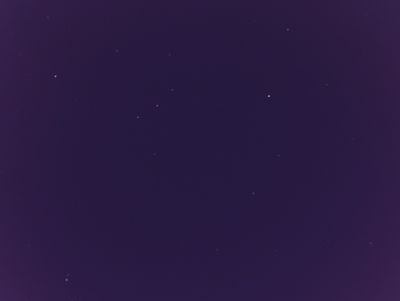 This is intended more as an aid to starhopping rather than a replacement for a proper encoder based pushto. Once you have one, installing it on a new scope is much easier than an encoder based DSC. You can use it to get close to the DSO in question, and then use the finder/EP. It also helps for faint DSOs to make sure you are at the right spot.
And if you want to do some basic AP with it, the other day after finding 46P/Wirtanen on my 80mm F/5 refractor on the EXOS Nano EQ mount with the PSWAI, barely visible in my LP skies, I took some shots with the PSWAI (same 50mm F/1.2 lens). The mount was approximately polar aligned (I have no view of polaris) and tracking. 40x8" lights (ISO 1600 with an IR filter) with darks, and bias stacked and processed a little in Deep Sky Stacker. The comet is moving fast, so is a small line over the duration of all the shots.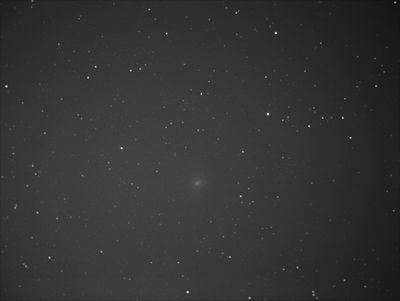 I put my scripts on github here in case anyone is interested. Some more details on the scripts there.
C&C welcomed, and thanks for reading.
Edited by hcf, 21 December 2018 - 03:03 PM.