With recent word that Questar's supplier of the traditional leather and vinyl cases is no longer available, Questar will be using a different case beginning in the near future. I don't know what that case will look like, but I have heard word from the factory that it will not be a modern Pelican-type case.
While I consider the traditional case to be one of the special things about a Questar, it's also a weak point in that it's vulnerable to damage in the field. Damp ground and rough surfaces can cause disappointing damage, as can a tumble. For shipping, the case is a more vulnerable element than the scope, and the scope requires extra padding in the case for safe transit. Moreover, these cases aren't cheap, with the leather version retailing (until recently) for $525 and the vinyl for $365.
In the generations since Questar introduced its English leather cases, plastic Pelican-style cases with custom foam lining have become the universal standard for camera gear, firearms, and just about any type of delicate or valuable instrumentation. Questar offers custom fit ABS cases for the Seven model for about $700 each (one for barrel, one for mount).
I'm surveying the interest in a travel case for a mounted 3.5" Questar Standard or Duplex kit.
Would you buy one for your existing cased Questar kit for travel, shipping, and field use?
If you were ordering a new scope, would you prefer this option to the current type of case, if available?
If you could delete the case from a new order and receive a discount would you order a modern case ion the aftermarket?
Assume that it would be a Pelican-brand (Made in USA) case for about the cost of the $365 vinyl case, and have custom cut foam (not plucky foam cubes) of a type guaranteed never to degrade and harm surfaces as we have seen with old foam types.
The case would weigh about 5 pounds empty, fit under most airline seats or in overhead bins (~17x14x9) and would accommodate everything in traditional cases, and more:
A Standard or Duplex Questar (including PG2 with thick base) with attached eyepiece up to 24mm size.
Solar filter and close up ring.
Three legs.
AC cord.
Five additional eyepieces of all the usual sizes.
A camera coupling set.
Storage compartment (~3.75"x2.5"x5.5") for PG controllers and other items.
The foam insert would look like this: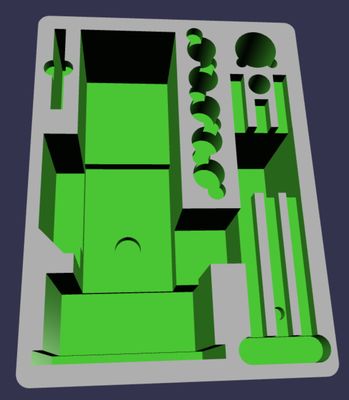 I should note that on the assumption that one is interested and this becomes available for convenient purchase, I welcome input. I'm trying to make it as versatile as possible. Have I forgotten any important capability?
Edited by Optics Patent, 28 December 2018 - 02:17 PM.