For a couple of months I've been posting in the "What did you work on today?" thread progress on my latest scope, which was approximately halfway done as of New Years Day. I haven't yet done a build thread on any of my projects during my more than four years on Cloudy Nights, and for a while I've been promising/threatening to write one on this project, which was started two months ago. Here goes...
I had more than a week of vacation time around the Christmas holiday and made enough progress on this dob to get to this point in the build: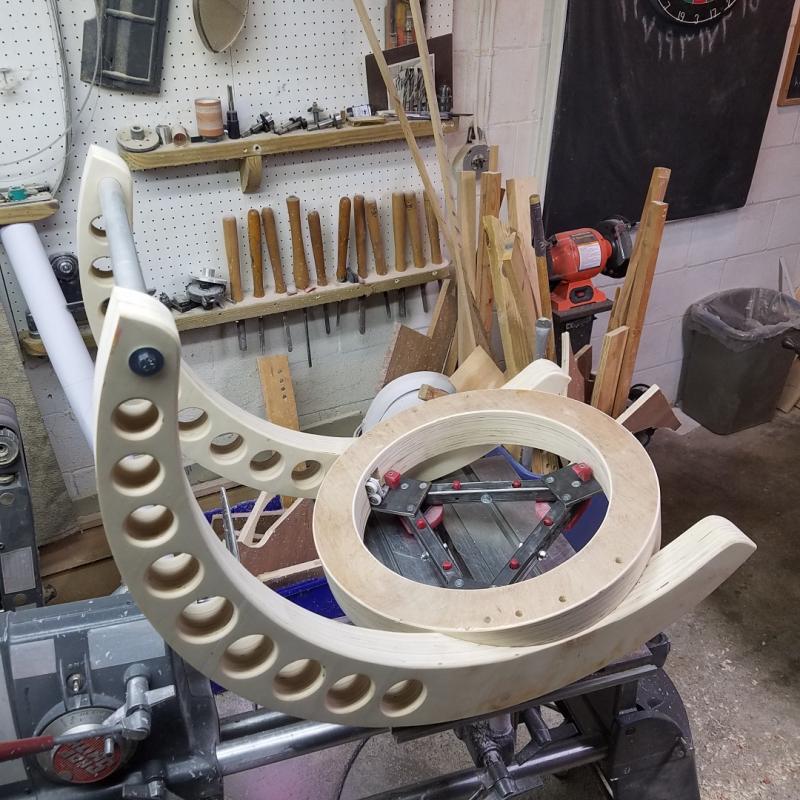 Anyone familiar with Jonathan Pogson's (Oberon's) excellent 16 inch scope Merope will see that this project bears a passing resemblance, particularly in the shape of the altitude bearings and the nested "mirror box" which is in fact a thick circular ring that is arguably part of the mirror cell. This scope won't merely be a 3/4 scale of Merope, though; it will have several features that are common with my 10-inch dob, the Tardiscope (which perhaps someday will have its own build thread--I do have the documentation for it).
Like Merope this scope will have hexapod adjustment for all collimation, without separate adjustment for the mirror cell and with minimal adjustment of the secondary mirror. This methodology was introduced on this forum by Jonathan in this thread, and new ideas for implementing hexapod adjustment are still being developed and shared by several of us on that thread. The keys to effective hexapods are minimal distances between truss ends and, most importantly, length adjustments that are easily enough made yet provide rigid truss attach points without discernible looseness or flexure. They must be tight, but not too tight for adjustment. As of this date I'm still working on the final details of my particular setup, but I have established that I will be using left hand and right hand screw eyes from turnbuckles at my pole ends. These will be fit into customized tube inserts of my own making. More on those later...
In this thread I intend to explain in detail my key design decisions, with a list of my design criteria spelled out early on. I will then describe my build up to this point, which has jumped around a fair amount among the components made thus far. Many of the photographs I'll share have already been seen in the thread "What did you work on today?", but there will be additional ones for parts made so far.
I intend to give explanations of the underlying thought processes for producing the major components on this, which will be my third scope made from scratch on the mechanical components, but with purchased optics. I hope to be a glass pusher someday, but am not as of yet. In this case the mirror is a Hubble Optics 12.5" f /4.3 sandwich mirror that I purchased seven years ago and has embarrassingly been residing in a drawer ever since. In fairness, it became available at an extraordinary price immediately AFTER the 10-inch mirror which I used on my current scope, the Tardiscope, which saw first light in June 2014 and was presented at Stellafane in 2015. I wanted to make and massage the 10-inch dob for a few years before starting on the 12.5-inch. If this project goes well I'll make the 12-hour drive this year and share this one at Stellafane as well.
Edited by jtsenghas, 02 January 2019 - 09:26 PM.