I've been posting bits and pieces of this scope on the "what did you work on today" thread for a few weeks now, and J.T.'s relocation of his build to its own thread has inspired me to do the same.
This scope isn't meant for me, but for my girlfriend, Amanda. Amanda currently has two scopes. The first is an Orion StarMax 102 on a Vixen Mini Porta. Originally she had a Vixen VMC95L on said Mini Porta but the scope was basically impossible to collimate and had mediocre to poor images, so I swapped it for the StarMax OTA. Her other scope (temporarily) is my 1973 orange tube Celestron C8. It's a great scope but it's a little heavy and unwieldy for her, and I worry about fitting the tripod (a Wedgepod with non-adjustable legs) in her Toyota Camry without it damaging the seats or something.
This project has gone through a lot of phases. Originally, it was meant to be a solid-tubed Dob with a mirror ground by Amanda herself. However, due to a lack of time needed to grind the mirror combined with a killer deal on an 8" f/5 Orion primary meant that I opted to instead build her the scope as a (sadly now belated) Christmas present.
As it turns out, the spider purchased for the scope doesn't fit the tube we bought and painted, and I wanted a challenge, so I opted to build a truss scope instead. This meant ditching the original focuser purchased for the project, which means the sole original parts are now the spider and 2.14" Antares secondary mirror.
In addition to being completely different from my other truss Dobs, it's also a proof-of-concept for a 10" or 12" travel scope which I'll be bringing to Hawaii this summer.
Currently, the structure is about 75% done: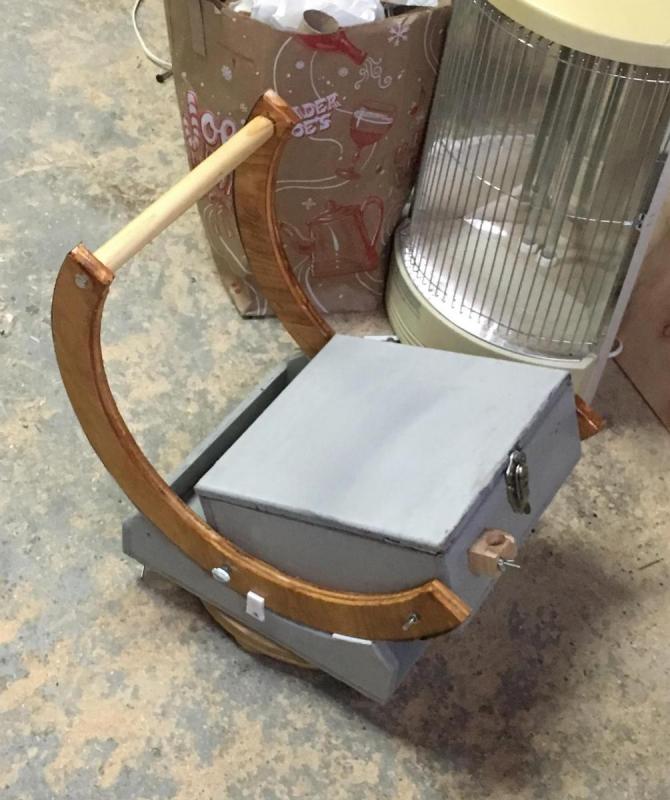 (ignore the wooden block, it's gone now)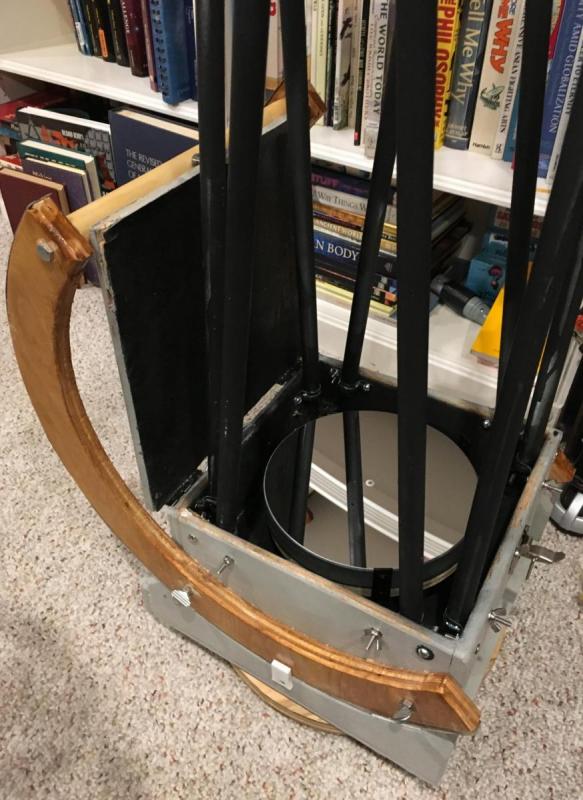 This scope is very loosely based on J.T.'s 12.5" and Johnathan Pogson's 16" scopes, but the simplicity of my tools and the scope's small size necessitated the following deviations:
No hexapod collimation
No plywood ring "mirror box"
No wire spider
No super-low-profile rocker
I have also now opted to build a single-ring UTA, which is the only component I have yet to build. So at this point, it's basically an 8-pole truss Dob with a single ring UTA, enormous bearings, and a very short mirror box.
The scope's bearings (as well as the brace between them) are detachable, the dust cover is hinged, and the truss pole clamps (electrical conduit clamps - I gave up on split blocks because they split and cracked so many times and gave me hand injuries) fit inside the mirror box, so one can put the bearings, rocker, trusses, and UTA in luggage and carry the mirror box on, allowing for transport on an airplane.
The poles are "1/2-inch" (really about 5/8") electrical conduits - eight of them. Overkill, but it makes for an incredibly strong, inflexible OTA. The wood is 1/2" plywood for the mirror box and mirror cell, with the rest being 3/4" plywood.
Fully assembled, the entire scope weighs a whopping 25 lbs.