I just finished a breakdown, clean, lube, adjust of my Atlas (same as NEQ-6) mount. Outwardly, the breakdown project seems to be a success. Stiction is gone from both DEC and RA, it balances much easier, and slews smoothly. (This is a used mount that needed some serious altitude adjustment mechanism repair when I got it, but before the breakdown it guided reasonably well, 1.2" - 1.5" RMS without too much effort).
I've adjusted the worm meshes to the best of my ability by going right up to motor stall, then backing off a smidge to elminate stalls. Each worm float was adjusted carefully so that the worm turns freely, but there is zero axial movement. I loaded the mount, then unloaded it and readjusted the worm mesh grub screws again as described above. Not sure what else to do on that front.
PHD2 guiding last night was a disaster. Rather than describe all of the symptoms, I have attached 2 log files. In between the first and second logs, I balanced the RA axis a little bit more east heavy and slewed back a little further east of the meridian.
A very notable result from the calibration performed in the first log session was how far out of square, i.e. non-orthogonal, the RA and DEC movements were. The calibration in the second log session was much better, and I had not experienced that non-orthogonality in calibrations before the recent service I did.
Each log consists of a calibration, guiding assistant run, then some guiding.
I'm not sure where to start looking for the cause of this bad performance, and recognize it could possibly be related to my guidescope and camera as well (50mm x 162mm Orion mini-guide, ASI178MM camera). The guidescope is mounted on the standard Orion single stalk mounting. The stalk mounting is fastened to an 8" dovetail which is mounted across the tops of the OTA rings. The guide camera is pulled as close as possible to the rear of the 6" Newt to help with DEC balance.
Suggestions?

PHD2_GuideLog_2019-01-10_201356.txt 35.37KB 5 downloads

PHD2_GuideLog_2019-01-10_203818.txt 37.01KB 4 downloads
Calibration from the first log session: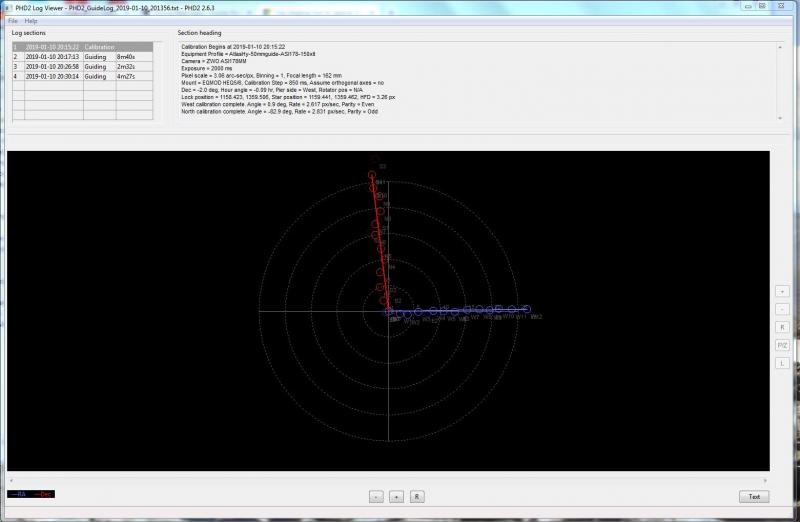 Tracking duing GA from the first log session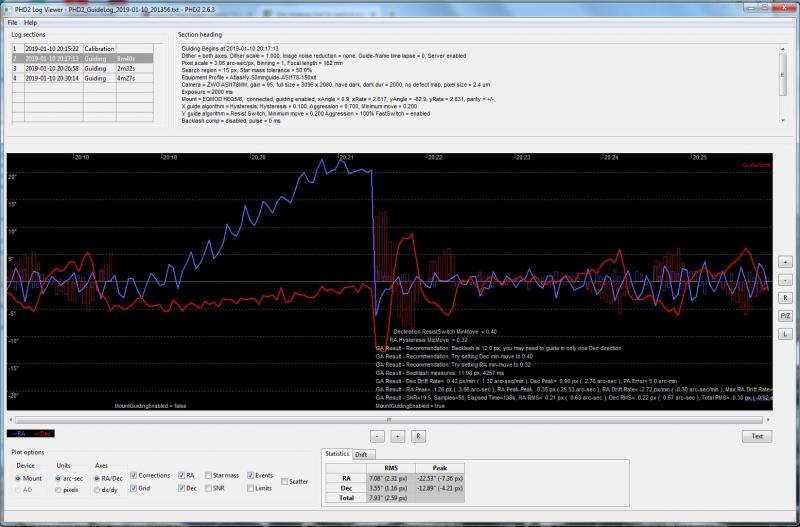 Edited by GoFish, 11 January 2019 - 10:11 AM.