Losing so much time to tweak a good PA every time I set up for the rare two-clear-night stretch had me frustrated. My dear friends that have a farm in southern MS were so kind as to let me do something permanent about it and more conveniently use the Bortle 3-4 sky.
So I started on my pier today. First things first... I chucked this baby up in my 1/2" Dwalt drill and turned her down a tad. Didn't know it would handle a 380 pound load...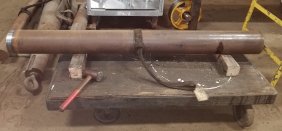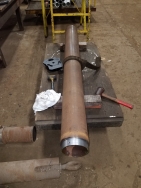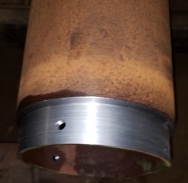 I think it'll hold my CGX fairly stable.
I originally went to Economy Iron Works in NOLA (great people) to see if they had a piece of 6" schedule 80 pipe they could turn down to fit my CGX base. They said they'd have to look in their stock to see if they had a drop piece to cut, or otherwise I'd have to purchase a 21 foot stick. They didn't have a piece of schedule 80 but they had this 6 foot piece of a special 7" O.D. x 7/8" thick wall pipe I could use. Worked out better, since it gave more thickness for the mount bolts to bite on.
I went with this instead of a pier plate, since all information I could find stated that a constant leveling of an EQ mount isn't critical. (One comment by a well respected astronomer said, "You could mount an EQ on a WALL if you have enough adjustment so that you can still get a good polar alignment"

)
Drilling the hole Monday, and pouring the concrete. Going to expand the bottom of the 12" hole as well as possible to give it the widest footing possible. Don't want to tear up more ground that needed, since, if the weather this year is anything like last year, I'll only be imaging a dozen times.