Here is the first image that I dont completely hate. I mean, it's not good by any means, but it's ok.
So we had some dark nights and I went out over 3 nights to image. This was my second time at imaging for long periods of time, over multiple nights, and doing longer subs.
Using my:
WO ED80 with a .8 reducer and flattener
D5300
AVX
I collected
36x120" ISO200
38x20" ISO200
8x240" ISO200
19x300" ISO200
Now, the 20" subs are crazy noisy. My master light has a ton of noise even with darks. It was also very cold that night (40F). The 300" look great and have very reasonable noise.
So I know that my processing in Pix probably has a lot to be desired. I ran into issues processing the noise. All the traditional means caused the nebula to look really strange. Like I could get the noise wrangled, but then the image would look strange. This was using very little NR (Like only 1 layer with only .3 amount, 1 iterations. Something was up).
Luckily, my ASI1600MM Pro will come in tomorrow! This will allow for better darks as well as, better flats. All around, better image.
If I could wrangle the noise, and bring out some more sharpness, the image wouldnt be too bad. So attached is the low res, then Ill link Astrobin. I can send the data if anyone wants it.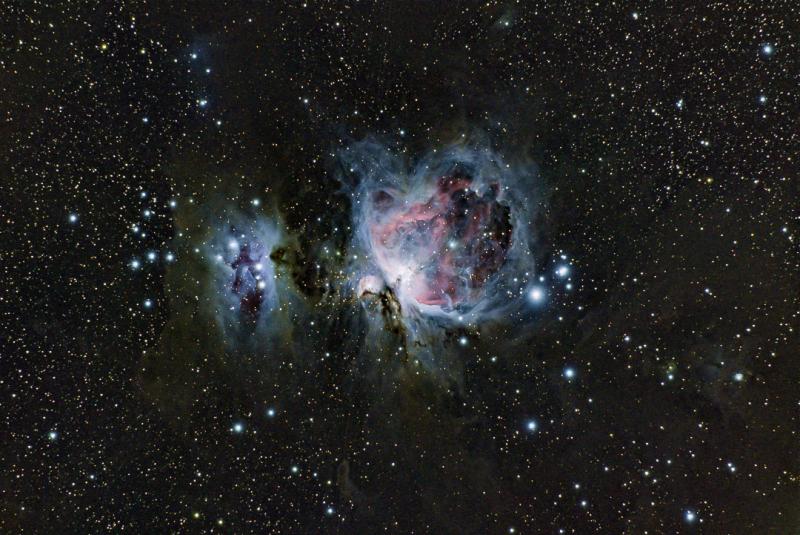 I know it's not great. This is only my 4th DS image (did a lot of widefield before going deep) but I want to hopefully get a Orion photo that is print worthy because it was this photo that go me into this hobby.
One good thing is that I did learn that I can get around 400" off of my AVX before I get streaking. So thats good for these narrow band filters I got.