Collimating My Advance HoTech CT Laser
I purchased this Ho Tech Advance CT Laser collimator years ago and just decided to check if all the laser were still aligned. So I measured and duplicated the pattern using Corel Draw and place it on a wall some 15` away. Once I got the unit squared up I noticed how off the beams were.
So most of the beams are going in the same direction so either this unit was dropped big time by the courier or the laser were not tight enough from Ho Tech or both! Come to think about it, maybe it could be from someone who borrowed it


Any how it an easy fix that you can do. You need to cut or peel away the yellow sticker over top of the laser screw caps on all lasers affected and take caps off. My center unit looked good.
Now there`s three Allen set screws that you can tighten or loosen to adjust the laser to hit the pattern on the wall. I can tell you it's a lot easier to have a helper to say what direction the dot needs to move then to do it by yourself. Your helper can use a ruler flat against the wall to point the direction you need to go.
First you need to shoot it squarely to a wall and the take your print out and match up the horizontal, vertical line and center spot with the laser pattern. Then you will see which ones are off on the circle.

1st pic is laser off at 15`
2nd pic is laser dead on!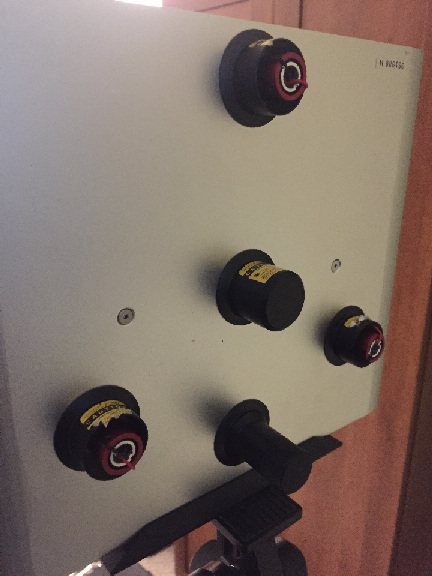 This pic is the back of collimator with three caps off ready to be adjusted.
This is a great tool to use and its best to keep it up to spec by doing it yourself cause if you send it back for them to adjust you might get it back worse if a courier drops or throws it around when its returned to you.
There is a good lesson here also.................. always test your collimation tools before collimating!
If anyone wants the PDF to check your CT laser out just pm me with your email and once you print it out hold it up to your collimator with laser off to see if your printer is scaling the image smaller or bigger and adjust printer settings.
As always use at your own risk.
Hope this helps