Got some detail out of my Running Chicken capture from back in April. It was tough to just get the histogram in the ball park, so I pasted it into an image with the unprocessed Carina Nebula and used that to get close.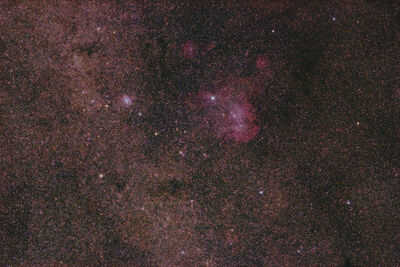 Running Chicken Nebula, 2018-04-14, 49˚ elevation
Canon 200mm f/2.8L II, Canon T3i (unmodified)
3×180 sec@f/3.5 ISO 400, no darks or flats
Skywatcher SkyView Pro EQ Mount (unguided)
Aligned & stacked in Lynkeos 2.10
Processed in Photoshop CS5 w/Annie's Astro Actions v7.0
Full sensor view, scaled to 1600×1067
Tropic of Capricorn, NT, Australia
Cheers,
BQ
Edited by BQ Octantis, 19 January 2019 - 08:37 AM.