Hello Astro Friends,
Even if you are not a user of APCC, you should probably read this. Especially if you are interested in unguided imaging using Astro-Physics mounts. As an owner of both an A-P mount and a SB Paramount, one thing that is clear between the two brands, is that SkyX T-Point/ProTrack does a wonderful job of tracking correction that can allow for pretty good unguided imaging, and in the past APCC and its model mapper APPM were okay at it, but for anything in the 5 minute range, you would likely not appreciate the result. That feedback has been given to the dev for APCC/APPM by many folks, and that dev recently spent some time reworking the APPM logic entirely. Recently a new Beta of APCC was released that had a completely reworked APPM. When I was informed of this, I was quite excited to give it a spin. After all, getting rid of guiding for modest exposure times is something I am keenly interested in.
So, I installed the new software. For users of automation that allows for scripting (like Voyager, for example) he also nicely added the -auto switch to the APPM executable. This allows you to call APPM from your scripts and have it automatically run your pointing model for you, load it into APCC, and enable it.

Super cool!
Anyhow, here are the notes I took while imaging (that were also provided to the dev, verbatim):
The new -auto feature works perfectly. The model ran automatically and loaded it into APCC to digest, and the model was automatically enabled. Awesome.
The -auto feature did leave APPM running. While not a problem for me, perhaps putting in a switch to close it after APCC consumes the model would be useful? Small tiny detail though.
The model worked very well. I was able to do 5 minute HA unguided exposures with a fresh PEMPro curve I recorded the previous night. I was imaging at at 1.42"/px using the AP130 GTX, GTX Field Flattener and FLI ML16200 camera. In the past I was not able to unguided image with APPM for 5 minutes. My seeing that night was horrid as well at about 5" (yuck!) and I was shooting in the direction of the moon. In better conditions I should be able to get longer images with nice round stars. I tried 10 mins, and things slightly started getting a bit oval on me.
I never used the Open Weather Map Free API before, so I decided to set this up in APCC so I could have something a bit more accurate than me just plugging in a temp, this worked perfectly all night long.
I did have one motor stall condition occur, but I do not think it was related to a problem with either APCC or the V2 driver. I immediately went outside and there was nothing happening in terms of cable snags or any blockage of the mount. It was running on 14.1V AC power at the time. It only happened one time, and the rest of the night ran without issue.
Here is a sample frame from the night (Monkey Head Nebula):
https://1drv.ms/f/s!...keUsC6for3IcNRA
And here are some metrics from the tools I use to evaluate data frames: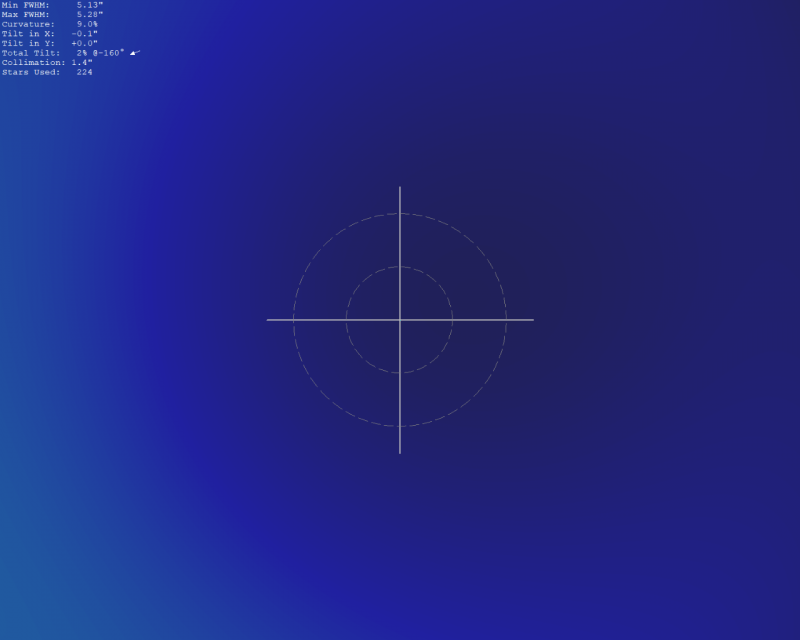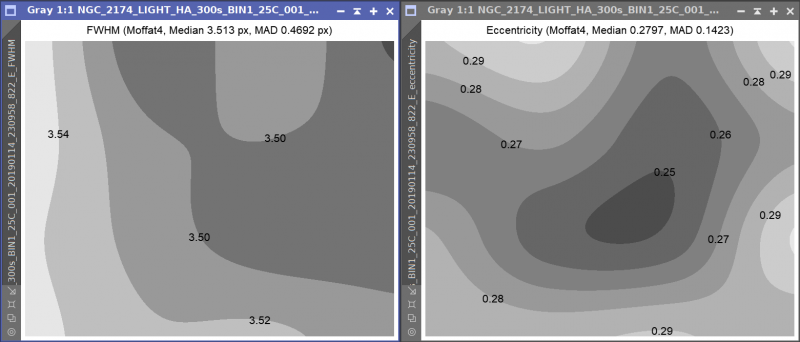 As I mentioned in the feedback, my seeing was not good, I was imaging pointing in the direction of the moon, and the results were still much better than past attempts with APPM vs ProTrack and T-Point. If you are an A-P mount user and want to try your hand at some unguided imaging, I strongly suggest giving the new APCC Pro (Pro is required to use the APPM software and to load that into APCC) a try. It worked exceptionally well, even in bad conditions. I plan to test this again once it clears up around these parts, but I am very optimistic that unguided imaging with APCC Pro and A-P mounts is something quite possible now, and will hopefully continue to improve in the future.
Edited by rockstarbill, 20 January 2019 - 02:48 AM.