Hi there
Many of us dream of a setup in a remote observatory, or even buying a property in a really dark area. The investment is substantial, and the question is how much better you images will be in terms of SNR. Of course there are issues with clouds seeing etc, but here I'm only interested in SNR.
One way is to use an on-line remote scope, but there are differences in equipment, that complicate this (a bit). In this post I tried a "dry" approach bycalculating how much better my setup would perform at some of the best sites possible. I need you guys to tell me if I screwed up in some way in my calculations. I'm fully aware that this approach is not accurate (or even remotely scientific), but I hope it will end be right ballpark. So opinions on the following are very welcome (I'm aware that the approach is quite banal, and someone probably have posted or published something similar previously - in which case this is just at testimony to my lack of Google skills). Here it goes:
Assumption 1) the SQM(L) near zenith reading is roughly proportional to the skyMag
Assumption 2) My SQM(L) readings can be compared with other peoples SQM(L), if the measurements are done near zenith
Skymag difference between A and B = 2.5log(A/B)
(log is logarithm to the base of 10)
My sky has SQM between 21.1 and 21.5, averagely around 21.2
My single pixel sky background photon-flux with the L filter averages 1.25 e-/sec (:=SBF(21.2))
Hence under another sky, with SQM = A, the photon flux should be
SBF(A)= exp10((21.2-A)/2.5+log(SBF(21.2)))
Somewhat to my surprise the results showed an more powerful effect of the sky background, that I expected. This graph shows SNR for a very weak object (one of the arcs in the gravitational lens of Abell 2218)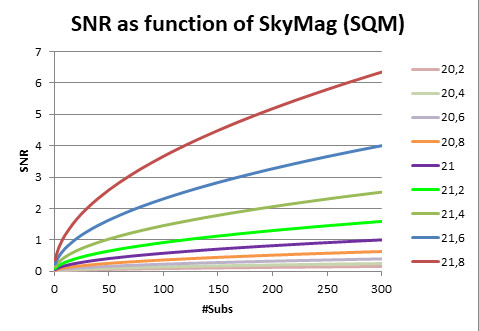 The 21.2 reading is from my Danish countryhouse, around 65km from Copenhagen city centre (app 1 mio inhabitants and capital). In my former (inner) suburban home 7 km north of the city centre the SQM is around 19.2 (the house was around 1.3 km from the sea, with some woods nearby - this is probably why the SQM was not worse). I have imaged from there, and gotten decent images. The SBF from those images fits with the SQM of 19.1-19.3. However, according to the graph, it should have been more difficult to image than remember. The question is what is wrong here, or is it just the fact that I never attempted to image very weak objects before I started out in the country, so my memory is skewed towards the ease of brighter objects.
Morten
Edited by morten, 20 January 2019 - 08:53 AM.