After an evening of trying to get basic pencil sketches through cloud breaks (to apply the eclipse hues to the next morning) I was soon clouded out. So went to bed to arise at 01h. UT and finalized the best three and decided to add 4 more………
What is presented here is the best one of them with the shadings etc. modified (stumped over) to match the eclipse levels in the 120mm scope. A pair of 3x40 (19th century) opera glasses piggy- backed on the D-K mount being used for the basic pencil sketches. This was sheer luxury and leisurely: like tackling a planet in perfect seeing with the big scope........!
I have a large number of subtle hues (greens/lilacs etc. etc.) recorded as they developed/presented during the event: I hope to turn these into a progressive series for posting later (when more time!).
Back in 1964 Dec 19 was a similar eclipse when the Moon crossed the northern part of the umbra and was presumably catching more strongly refracted sunlight giving it a very Mars-like NP Hood effect as many reported. This time also but not so pronounced as I recall that in 1964 – perhaps suggesting the Earth's atmosphere was particularly clearer on that occasion. The Moon being about 1' deeper in the umbra this time seems not enough to make that much difference in lighting I feel.
Dave.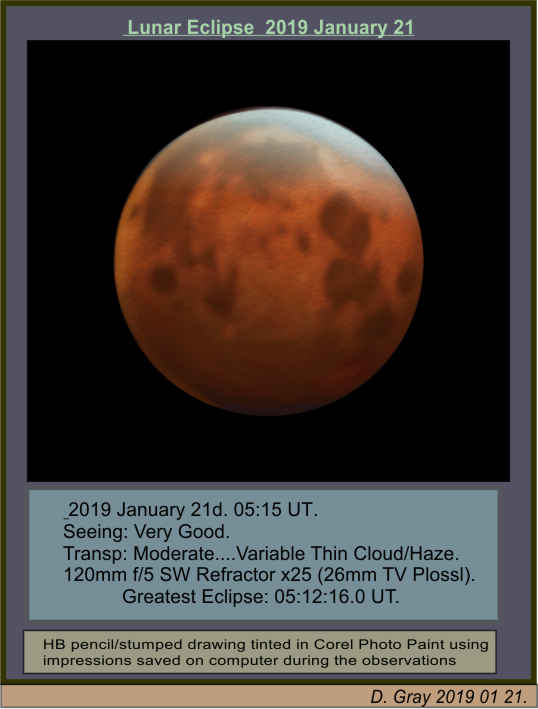 Edited by David Gray, 22 January 2019 - 05:25 AM.