I've been working for a little while on a set of sky atlases (10 charts, 20 charts, and 30 charts) that I'm making available for downloading and that can be printed at home. I've created a little website to host them:
http://www.olle-erik...night-sky-maps/
10-chart version - deepsky objects to 8.5
20-chart version - deepsky objects to 12.5
30-chart version - deepsky objects to 13
(Edit: Removed the information about the limiting magnitude of stars as it wasn't correct)
Below is an example chart from the 20-chart version. The 10-chart version is obviously more zoomed out, and the 30-chart version more zoomed in. You'll find more screenshots on the website.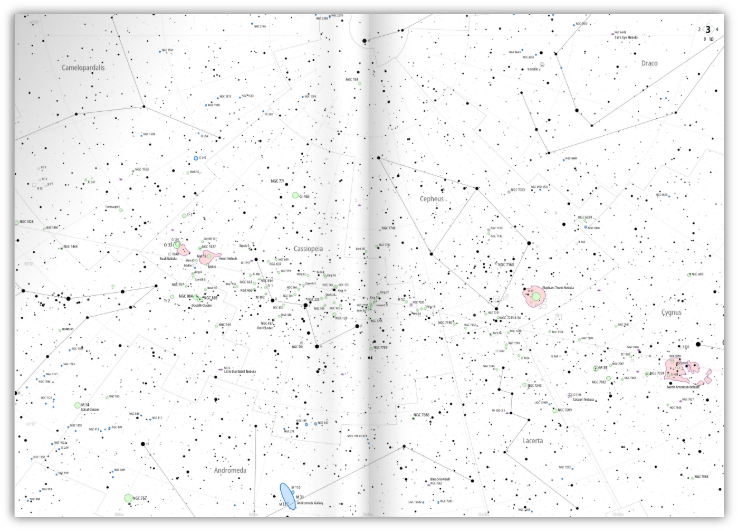 To give some background I already have and use the Interstellarum atlas for when I'm at the eyepiece, and I have the SkyAtlas 2000.0 laying around, and also the Cambridge Atlas Of Herschel Objects. But sometimes I just want something smaller, but not so small that you can't see anything on it. Something that can be laying around on my desk, and be used for checking out a constellation for deepsky objects or for planning a night of observing. An atlas that shows you details, but where each chart covers quite of a bit of sky so that it doesn't feel like you're looking through a keyhole.
Apart from that I've also always felt the need for one simple small-scale set of maps that I can grab first thing when I'm setting up at the observation site, or to show someone the constellations, or for panning the milkyway. I find a planisphere to be way too small for that. I used to have a printed version of Taki's 6.5 mag atlas, and also the Mag-7 Star Atlas, and I've checked out the Beginner's Star Atlas as well. But I find these to be a little too small-scale still. And at the desk, they just seem a bit limited to me.
Then there's the Pocket Sky Atlas and the like, but now suddenly you're looking at a very narrow part of the sky, and given the small physical size you have to flip through lots of pages. A larger atlas like Interstellarum is great, but doesn't give me the kind of overview I'm sometimes looking for. I also find most of these atlases to have way too large margins, it feels like they're not using half of the page. I've been wanting something that is just a few sheets of paper thick, that prints all the way to the margins, and still shows a decent amount of deepsky objects. The closest thing I found to this was SkyAtlas 2000.0 but it's just too bulky for me. And so I Finally I decided to dig in and make them myself using Cartes du Ciel and some PDF software.
20 charts for the whole sky (both hemispheres) turned out to be just the right scale for me. By utilizing double-page spreads I feel I was able to make two printed papers appear as one big chart, and especially when printed completely without margins, which you can do with these. This means I get A3 sized charts, but printable on regular A4 paper, and folded down to A4. And don't worry, I've got Letter sized versions as well.
When I was half-way done I decided to also make a 10-chart version and a 30-chart version. The 10-chart version turned out to be just the high-level overview atlas I had been looking for, great for learning the constellations and to see where the brightest deepsky objects are.
One thing that might be said of these atlases is that the print is quite small, so it might be hard for some to use, and maybe especially so in the dark at the eyepiece. But at least the 20-chart and 30-chart versions are not primarily intended to be used there, but at the desk or before an observation session.
I hope you like them, and let me know if you find any errors or have any questions.
/Olle Eriksson
Edited by Olle Eriksson, 23 January 2019 - 04:43 AM.