This was really fun to watch.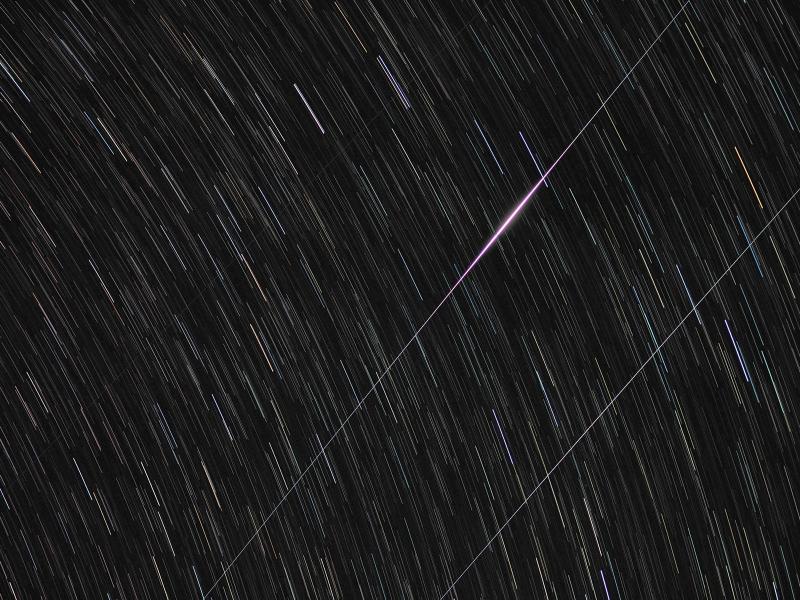 Both satellites were visible for at least thirty seconds prior to the beginning of their "flares"... and both remained visible for perhaps three minutes afterward, as well.
The dimmer of the two appeared first (Iridium 58), and reached Mag +0.8. Rather unusually, it remained close to maximum brightness for quite a while, and as such, its track appears nearly uniformly bright in my photo... although upon close inspection, the central portion of the track is just barely perceptibly brighter than its extremities.
The brighter flare (Iridium 59) reached Mag -7.2, and was a glorious sight.
This is a single-frame "Live Composite" shot, taken with a 75mm f/1.8 Olympus lens at f/2.8 and ISO 200, on my Olympus OM-D E-M1. The FOV is ~16° diagonally, and the total exposure-duration was about seven minutes.
I watched naked-eye throughout the event... and the much dimmer third satellite which appears in the photo was completely invisible to my eyes (click on the photo, to see it). Two other polar-orbiting satellites passed through this same area only a couple of minutes prior to the two Iridiums.