I tried my hand again at processing my shot of the Southern Pinwheel Galaxy through my C5/750 from back in May. The results were far superior to my previous results in July—here's the full-scale crop: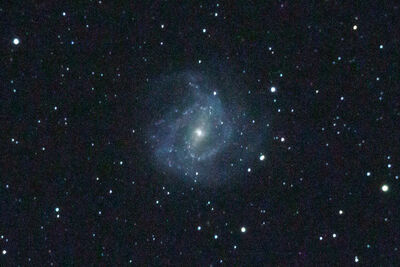 Southern Pinwheel Galaxy, 2018-05-13, 78˚ elevation
Celestron C5/750 f/6 SCT, Canon T3i (unmodified)
1×180 sec@ISO 800, no darks or flats
Skywatcher SkyView Pro EQ Mount (unguided)
Aligned & stacked in Lynkeos 2.10
Processed in Photoshop CS5 w/Annie's Astro Actions v7.0
Full sensor scale, cropped to 1600×1067
Tropic of Capricorn, NT, Australia
Though noisy, the results are making me reconsider getting an f/4 Newt. Per the numbers, I think I'll retry with 30 second subs at ISO 6400 and integrate for an hour or so…
BQ
Edited by BQ Octantis, 24 January 2019 - 04:32 AM.