I really enjoyed the lunar eclipse earlier this week, my gear worked without any errors and the skies were very clear. I'm almost 30 and this was the first time that I visually observed a lunar eclipse. The next one visible from Western Europe only occurs in 2029, so I'm glad that it all worked out this time.
Looking through the eyepiece, I could easily observe both the illuminated and eclipsed parts of the Moon simultaneously. But the difference in brightness was actually huge (over 9 photographic stops) and it was impossible to capture the dynamic range of the entire scene with a single exposure. Nonetheless, I tried to recreate the visual appearance of the event by combining several different exposures into HDR images. Blending the layers involved quite a bit of artistic freedom, it's mostly my own memory of the event.
The HDR images seem to have a bit more depth or 3D-effect due to the rounded shape of Earth's shadow. I quite like that, because the shadow was one of the first things that blew me away during the observation.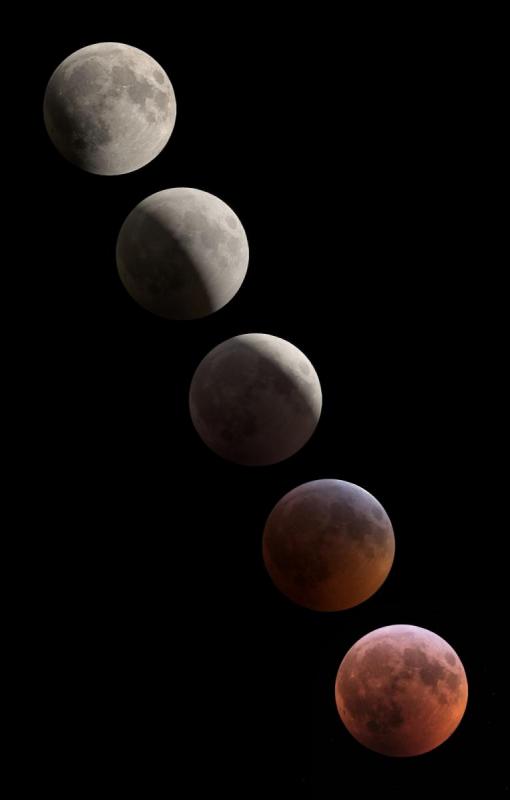 Full resolution at 2.7"/pixel on AstroBin: https://www.astrobin...387468/0/?real=
Technical details:
Location: Leuven, Belgium
Date: 21 January 2017
Telescope: Teleskop-Service 80/480 triplet with 2″ TS 0.79X reducer/flattener and Baader 2″ UV/IR filter
Camera: Canon 450D
Exposure: 1/1000 sec, ISO-200 to 5 sec, ISO-200
Mount: Skywatcher EQ5 Pro
Accessories: ASToptics dew straps, Omegon 2 Channel dew controller, Intervalometer
Power: Tracer 16 Ah + 7 Ah 12V LiFePO4 batteries
Software: RawTherapee, PixInsight, GIMP