I've had a PVS-7 for a month and a half or so now and have been out with it with the stock objective, but I've been waiting for adapters to arrive to really get out and test what I can see. I did not enjoy the coma I was getting with the 3x afocal magnifier and the stock objective, so, following in the path of what other forum members have done, I amassed a small collection of old Nikon Nikkor SLR lenses and C-mount adapters. Specifically, I bought a Fotodiox adapter to use without filters and cobbled together GeezerGazer's (Ray's) C-mount to F-mount with ScopeStuff parts and a took-forever-to-arrive M42-to-F-mount adapter to allow me to place filters between the C-mount and lens.
Got out tonight for the first time since everything arrived, the biting cold left, and the clouds finally parted to really try everything out. Synopsis: Love it! Bullet point thoughts:
So much easier to achieve perfect focus with the big SLR

lens

' focus rings.
Loved the quick magnification changes I could get with the F-mount adapter.
Liked being able to dim image to help with sky glow using aperature on the

lens

es. Really helped bring out stars stopping down one or two stops.
Could only see nebula (other than Orion) using 12nm (or smaller) Ha filter.
Found my new 12nm Astronomik Ha filter showed so much more than the 7nm Baader Ha I bought used. Don't know if it's filter performance or just the lack of specs in my old PVS-7 tube, but I couldn't even see the Horse Head and Flame though the 7nm, but could through the 12nm.
Couldn't see any nebula but Orion with Lumicon Night Sky (640nm longpass) filter.
Loved the quick swap out to prime viewing.
Lenses I currently have:
stock objective - don't think I'll be using this anymore
28mm f2 - more for walking around and having fun than astronomy
50mm f1.4 - view as primary quick look around lens
135mm f2.8
180mm f2.8
My favorite for looking around was 50mm, but best for the nebula I looked at tonight (Heart and Soul, Seagull (faint), Rosette, Horse Head and Flame (faint), and Orion) was the 135mm. 180mm was nice too, but got heavy after a while. Waiting on a 105mm f1.8 I just got cheap off eBay.
Also tried using PVS-7 prime in my SkyWatcher ProED 80mm. Horrible photo taken holding iPhone up to one PVS-7 eyepiece using the stock camera app (so no idea what ISO and shutter it used). As has been said before, unless you're stacking photos, it looked better in the eyepieces than this photo shows: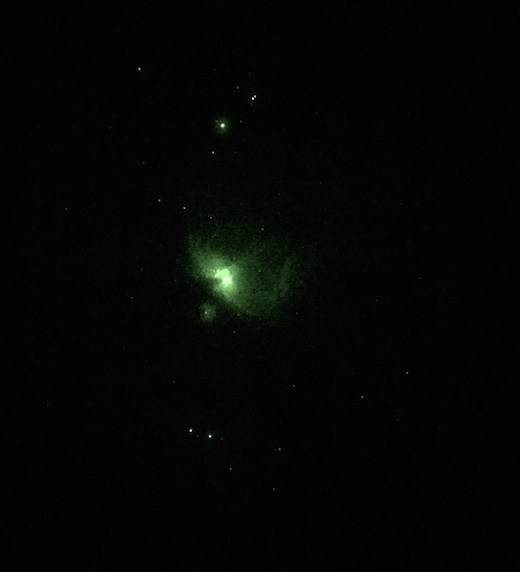 Good times all around! Thank goodness for a clear night!.
~Dan
Edited by DannyBoy2k, 24 January 2019 - 10:22 PM.