It cleared up again last night, so I took a stab at shooting NGC 2997 through the 200. I unexpectedly captured a handful of additional galaxies in the shot, namely NGC 3001, NGC 3056, IC 2507, IC 2510, IC 2512, IC 2513, IC 2514, NGC 3038, IC 2522, and IC 2523.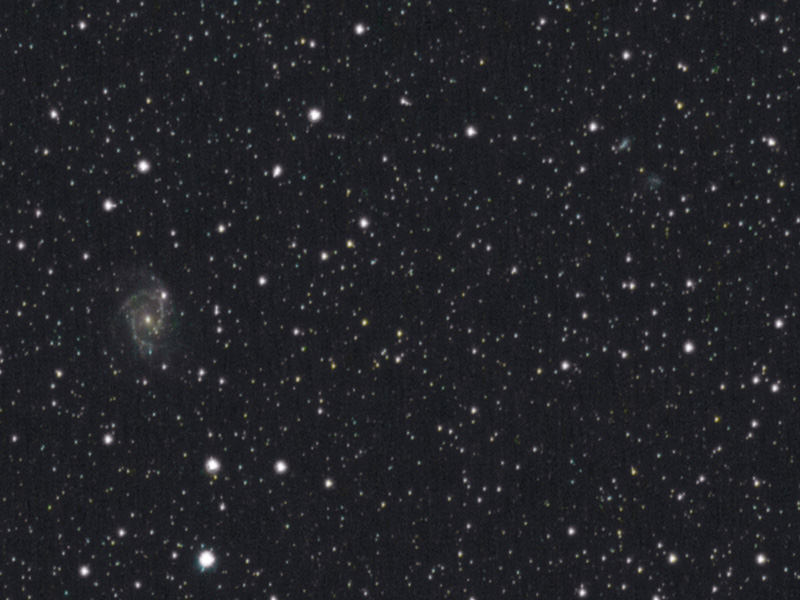 NGC 2997 & IC 2507, full scale
IC 2512, IC 2513, IC 2514 & NGC 3038, full scale
Canon 200mm f/2.8L II@f/2.8, Canon T3i (unmodified)
60×30sec@ISO800, 40×darks, 16×flats
Skywatcher SkyView Pro EQ Mount (PEC playback)
Aligned & stacked in Lynkeos 2.10
Processed with Photoshop CS5 w/Annie's Astro Actions v7.0
Tropic of Capricorn, NT, Australia
I was weary of overlaying Stellarium screenshots to identify objects, so I uploaded the full res image to Astrometry.net directly for the first time. Unfortunately, as an anonymous uploader, my image is now licensed as "Attribution 3.0 unported" (whatever that means…caveat emptor!). Regardless, the full res image now has a home without taking up one of my 10 free Astrobin slots:
http://nova.astromet...46268#annotated
Cheers,
BQ
Edited by BQ Octantis, 04 February 2019 - 08:16 AM.