Hello All,
In the last few weeks I've made some posts regarding the new Explore Scientific FPL-53 scopes, having purchased the 115mm f5.5 Feathertouch model on Black Friday of last year.
There was a lot of curiosity regarding these new ES Scopes. Many people were asking me questions and wanted information. I indicated that I would start a thread that would address these questions and give the community some more details.
Ultimately, I got aperture fever and was able to work out a deal with Explore scientific to upgrade the 115mm to the 140mm since it was less than 30 days old. I decided to forgo the feathertouch on the 140mm to save some money when upgrading and go with the stock 3" hex focuser after some consideration. I'll write more on that later when reviewing the focuser. I will post pictures that will hopefully provide some more detailed views of this scope than have been previously posted on the net. I'll include my impressions of course and answer any questions as quickly as I can.
I received the 140mm scope this past Wednesday 1/30 so haven't had a chance to view thru it yet. I only viewed the moon thru the 115mm and took a quick moon pic thru it one night before sending it back to ES. The view was stunning using 26mm & 8.8mm Ultrawide plossls. No CA that I could see thru that scope. Razor sharpness you'd expect from a high-end refractor. I'll post the 115mm pic just so one can judge for themselves. It's 25 stacked images taken from just 5 mins of imaging from my balcony as a quick test. I'll be taking the 140mm out to Jones Beach LI in the next few weeks to do some DSO imaging at a darker site with the ZWO 294mc-Pro. I'll also be taking some lunar shots before then with the 140mm scope in the next week or so.
115mm Moon Test Image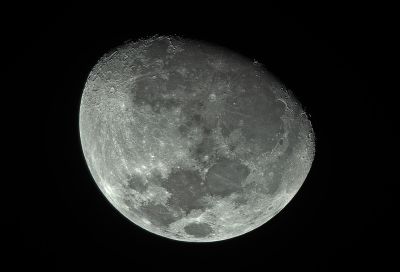 As for the 115mm It was a gorgeous scope, and far smaller than the 140 in terms of total length (632mm vs 910mm focal length). Definitely a more compact scope. It's much more a grab and go scope than the 140. I wanted to photograph M63, M51, and M104 and the 140mm with its longer focal length had more magnification for these smaller DSOs I'm looking to image. The feathertouch focuser on the 115mm was buttery smooth and solid. I wouldn't have had any regrets with that scope had I kept it, as there are many wider field targets it would have been perfect for.
I'm going to post the pictures ive taken of the 140mm and update the thread in the next few days with the reviews of the individual components. I'll also answer any questions I can. Enjoy all

I'll be back tomorrow to provide more information. It's taken me a few hours to take the pics and post so i need to get some sleep.
Regards,
Skyhunter1
Edited by SkyHunter1, 07 February 2019 - 01:29 AM.