NGC 2346 is a very difficult planetary to observe. I worked hard on this one to sort through the confusing signals to finally figure out what it looks like. Let me say that again, "to figure out what it looks like." Only some of the detail came easy, the rest was tough and fleeting. But, I stuck with it despite wanting to give up, already...I just did not think I was going to make much of it. I was wrong. When it was all said and done, I hit wikisky to see how it was oriented in the star field. I was stunned. It all made sense. I did not want to pack it in tonight, but I had a great observation and had to get it sketched while my memory was fresh enough to make sense of my hen scratched notes.
First off, I did not find the planetary all that bright. Very easy to find, though, and obvious non star-like at low magnification. The central star was easy and prominent, spotted it right away. It had a very diffuse glow around it. That was the easy part. I tried different magnifications between 200x and 300x, both with and without the Orion Ultrablock. Detail was popping without the narrow band filter, but I hoped for more with it. So, I settled on 225x with a filter for a while and made some notes. The planetary seems pretty large-ish. It had a faint glow that extended for some distance and was a little brighter toward the center.
During the observation, I finally caught what looked like another very faint star to the west. Then I'd get a better look at one to the south. Then one to the east. I know something was going on, it looked to be knotty or had a double core, but I just could not nail it down. West, east, south? Who knows. But, I keep seeing them and really tried to decide which it was. I thought I was seeing some bifurcation of the core, but I could not tell in what direction.
Even more confusing was the appearance of some elongation to the core region to the SE-NE and then glimpsed another NW-SW. Then I was sure the elongation was east to west. Again, I just could not lock it down. I just keep seeing it, then decided it must be elongated basically east or west and the other elongations were spurious. It was a difficult and confusing observation as almost everything except the faint halo, slightly brighter core, and central star appeared spurious. I even saw some faint indistinct darkenings, I thought those must be spurious, too. But, I often see those in some galaxies, so I was not quite sure. Still, they were all over the place. The image was pretty dim, really, so I figured my eyes are playing tricks and nothing was easy to lock down. It just got confusing.
Really, I was about to give up and just call it. But, I hit it with 300x and the Ultrablock filter. At first, it really made things worse. The scene was dim and I just did not think I could make much of it. But, I was already well dark adapted and already in place with some time on this object. So, I just hung in there for a while longer. I came this far, I'll try this 300x filtered for a bit. I guess there was some improvement with the filter, the sky background was a little darker, but the image was not strikingly different. And, I pretty much saw the same things, including the east to west elongation. Then some elongation skewed in almost an 'X' shape. So, hey, something has to be happening. Then it dawned on me, I was seeing some of the fainter extensions! That explains why the seemingly spurious elongations were symmetrical and forming that 'X' shape around the core! How cool is that?
I decided the bright knot to the west was most prominent and that must be the bifurcation. Okay, so at this point, I had a bright central star, a faint halo, and a slightly EM elongated core and an "X" shape overlaid on it and a bright knot to the west. I guessed I had enough and knew enough to sketch it. Upon checking as many suitable images as I could find, turns out some show other knots to the south and east, too. So, I was both right and wrong. Right that I saw them, and now they made sense...and I was wrong there is no bifurcation I could see. My guess is the darkenings were where the halo dropped off rapidly in brightness and maybe where the hour glass pinches inward. Again, they were all over the place and I was not very sure about any of them. I left them off the sketch, but I think those features gave the impression of some indistinct darkening in the nebula.
I am not sure what else to add other than this was a difficult observation and I worked at it for about an hour (I suppose, time flies...). But, when I checked wikisky with respect the field stars, it all made sense and i was floored I made something of it, after all. I knew I had it. There is a slightly brighter star out of the FOV to the east (right) I used to focus on.
Thanks for looking.
Oh, it was boxed in by several faint field stars. I think around 13 magnitude. So, I included a few of them I recall seeing. There were a lot of stars in the FOV, too. Many I left out because thre were too many to pay attention to. I also did not do a TLM estimation using the Ultrablock filter. Transparency was descent, not majestic, and probably somewhat variable. Seeing was almost perfect.
I also hit IC 418, too. My interest was to attempt to see it's reddish color. Not sure I did. Nice planetary, though. Small and bright, slightly elliptical, and with a very prominent central star(?).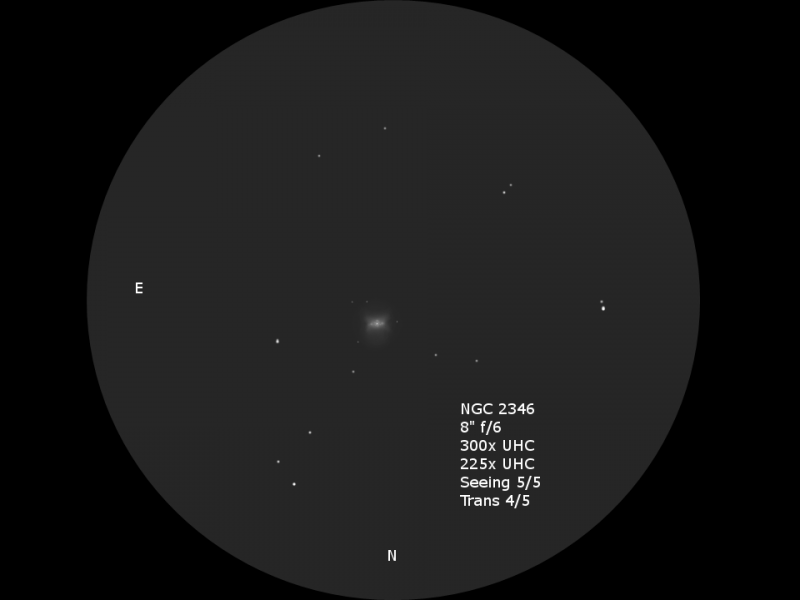 Edited by Asbytec, 07 February 2019 - 11:07 AM.