G'day all,
I shot the Centaurus Cluster back in April of last year through the 200, but I wasn't all that thrilled by the result. I decided to go back and apply my post-Wirtanen methods to the stack. It wasn't much data, but it was enough to identify 123 galaxies, most of them anonymous: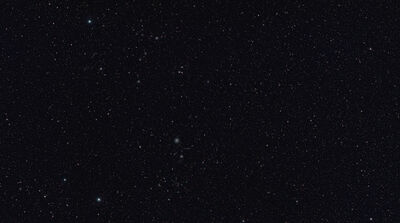 Centaurus Cluster, 2018-04-14, 71˚ elevation
Canon 200mm f/2.8L II, Canon T3i (stock)
2x198@f/2.8 + 2x240sec@f/3.5, ISO800, 1 dark, 2×16 flats
Orion Skyview Pro Mount (unguided)
Processed in Photoshop CS5
w/Annie's Astro Actions v7.0 & Astronomy Tools v1.6
Tropic of Capricorn, NT, Australia
Some of them are hard to see, but you can clearly see them with an inverted galaxy hunter layer: Tangentially, I may have stumbled on a way to reduce my walking noise. I don't have 198 or 200 sec darks, so I simply scaled my one 180 sec dark. I could see where the fixed pattern shows up when the dark is too strong, which results in the walking noise with the stack. As such, I'll have to experiment with equalizing my darks. And maybe get a thermal astromod for the T3i…
Cheers,
BQ
Edited by BQ Octantis, 11 February 2019 - 07:45 AM.