Been on a planetary kick lately. Tonight was a revisit to NGC 2452 because I ran out of things to so after scouring NGC 2207 again. First time I saw it, not really impressed. But, tonight, I just felt like digging in and seeing what's up. It was clear, seeing was good, and transparency is about as good as it get's.
Beautiful cluster, though, NGC 2453...Randolph might be proud I kinda took a liking to it. But, just south was NGC 2452, small and easily seen at low power. So, you know planetaries, you just cannot stay at low power. So, I cranked it up to about 200x then 300x (without a narrow band filter) and well it was kind of there as a bright slightly elliptical fuzzy spot. Kind of hinted at being uneven brightness, but I cannot remember much else at this point. I dropped in the Orion Ultrablock and observed it the rest of the evening.
Surprisingly, even at 300x (0.7mm exit pupil) with the narrow band filter, the nebula was still quite visible The sky background, in fact the entire scene was pretty dark. But, that's okay...better dark adaption. And, actually, this time I began to actually see some fleeting detail popping in and out of view. I could see some brightening in the north and south and a weak and not often seen dark bifurcation running roughly east to west. At times it looked split in two, at other times it kind of looked like a hole in the center...almost annular appearance.
There were times when would see a brief sparkling in the north and in the south and sometimes in the east. At other times I see a broad lobe north and south. The western edge appeared to be a little broken, in other words the annular appearance was not complete. The eastern side appeared to be continuous and consistent with the annular appearance. So, I could not decide if I was seeing sparkling or a lobe. Then it dawned on me to stop worrying about it, I was probably seeing both. I will tell you, though, the sparkles (often seen individually, and sometimes in pairs) appeared to be closer to the central darkening. So not only where there lobes north and south, but each lobe had an embedded bright spot.
At one time I thought I might be seeing a central star, but I am pretty sure it does not have one. But, according to some research, what it does appear to have is some foreground stars overlaying the nebula, and the southern lobe does seem to have at least one (maybe more) brighter lobes. I saw only one that I can tell. So, my guess is that is what I was seeing.
I forgot to mention, I stepped down to 200x with the Ultrablock and had a good view. But, I wanted more image scale, so I hit 225x with the filter and stayed at that magnification for a long time, too. I think 225x was most productive. I mean, I saw all of this at 300x, too, but it just seemed better behaved at 225x. The sketch is based on views from all magnifications employed over the hour or so I spent on it. Sure is a far cry from the previous less impressive encounter with NGC 2452. This time I made something of it.
Here's one image that kind of resembles what I saw. At the end of every observation, I always recap the detail so I can say I know what (I think) it looks like.
http://www.astro-pat...2-19-032015.jpg
To close the evening, I hit Messier 97 and Messier 108...long time no see. I have to revisit both of them fro a sketch. Messier 108 looked like it could be a nice sketch. In just a few minutes looking at it, I already noted it's stellar nucleus, mottled core, one ansae (north east I believe) of the bright core was brighter than the other, and indication of a dust lane also to the north-ish side of the elliptical form. When I hit Messier 97, I was kind of shocked how bright it is. I seem to remember it being dim. When I hit it with the ultrablock at 100x, I became a believer in LP filters again. Man, it popped nicely. More so than NGC 2452 did. I was on the verge of seeing both eyes...I think I got one of them. Have not seen either object in recent memory...
But, tomorrow gotta revise my NGC 2207 observation. Had a better view of it tonight.
Thanks for reading.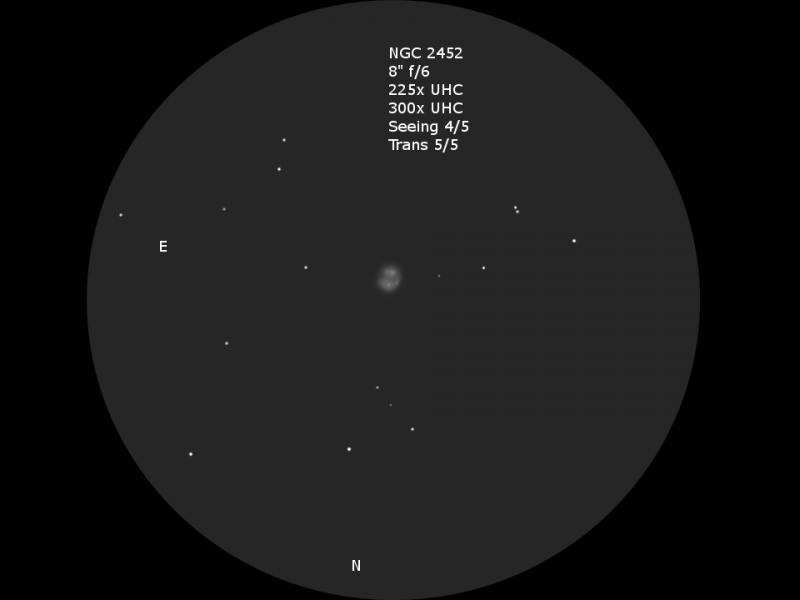 Edited by Asbytec, 11 February 2019 - 12:49 PM.