Hi all - a combination of many things (including clouds frequently) have meant no imaging for us...but we have also been playing around with some old gear to make the lugging around of the C14 & EQ8 combo easier as we get older..!

Anyone who knows about these mounts will appreciate just how heavy the steel tripod/pier is: we had an old aluminium pier which had sections of smaller diameter heavy ally tubing welded near the bottom to accommodate some old Samson or somesuch legs - this came from Mick (Space99) several years ago as another "gunna do" project which neither of us progressed with...

But because the pier & quick-detaching legs all weighed diddly-squat I thought it might make an excellent lightweight substitute for the stock tripod - I've just finished it & hope to try it out on Thursday (morning after tomorrow) out in the Murray Mallee at Sedan.
It appears quite rigid but I need to give it a real field-testing...if it isn't as steady as I wish then I'll simply shorten the pier by anything up to a foot (300mm) & weld another top-plate onto it so that I can re-bolt the EQ8 Az plate I've made onto this new top...
Here's the new pier assembled with the EQ8 & C14 - I've also lashed out on a new Stellarvue 10x60 finder-scope with illuminated reticle ep, primarily to assist with Neptune targeting later in the year. The S/vue is a real little beauty btw...I've made a rail to go on the top of the ota & attached a SW guidescope mount with fine Az/Alt adjustment so that I can easily calibrate finder & main scope - the only item not seen here is the Telrad.
Being able to slide the finder back & forth also gives us the ability to set fine Dec balance...atm I have adjusted all these (Dec & RA c/weight settings) but although I have tried to align the N-S orientation of the Az plate I made as accurately as possible with the "South" leg, I will need to fiddle with the Az knobs at Sedan the night before any imaging to accurately mark the EQ8's arrow on the bottom of the mount proper with the Az plate...hopefully all goes well..!

The 3 extra holes (small) in the Az plate are the result of me using an old piece of ally plate which I'd used for something else previously - waste not, want not!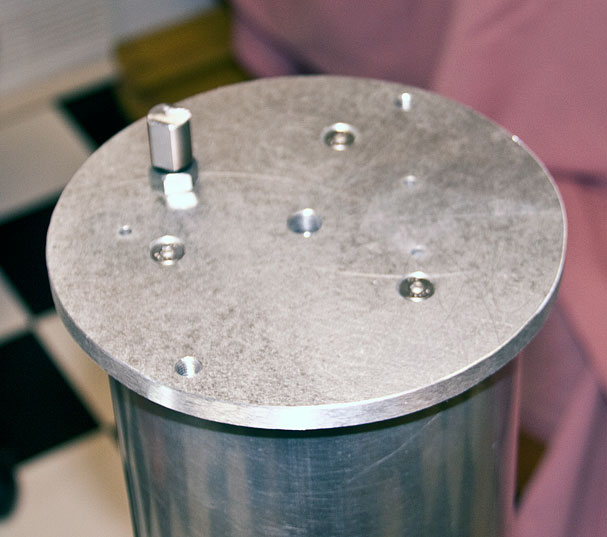 The last pik (below) was taken before I fitted heavy-duty self-levelling feet (see 1st pik) to the adjustable knobs at the end of the legs...each is rated at 800kgms

but I had to make connector sleeves - the feet are 12mm threads but the leg knobs were 1/2"BSF which I thought a tad odd as I was under the impression this was originally from an old Samson et al job & imagined they would be some weird thread like 15/32" AF...but luckily they weren't.

If everything goes well I'll finish the leg-to-pier brackets with full-length fillets of weld & wire-brush or polish the entire pier/pedestal setup - in time!

I took the corrector plate off during this work & cleaned it (both surfaces) & the primary in anticipation of a good "first light" Thursday morning..!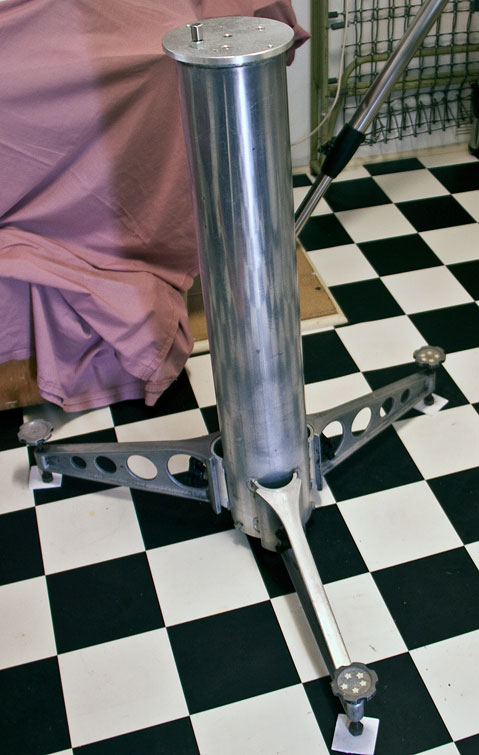 Edited by Kokatha man, 12 February 2019 - 03:41 AM.