Hello all,
I'm new to OIII. I'm using my Ha filter on a mono modded T3i almost since I started with AP and all was fine. With OIII several attempts failed. After two nights of Ha under clear but unsteady skies I shot one night of OIII, object is NGC281, the pacman. While Ha is deep an rich there is very little going on in OIII. Here is a screen shot of my PI-screen-stretches Ha and OIII masters: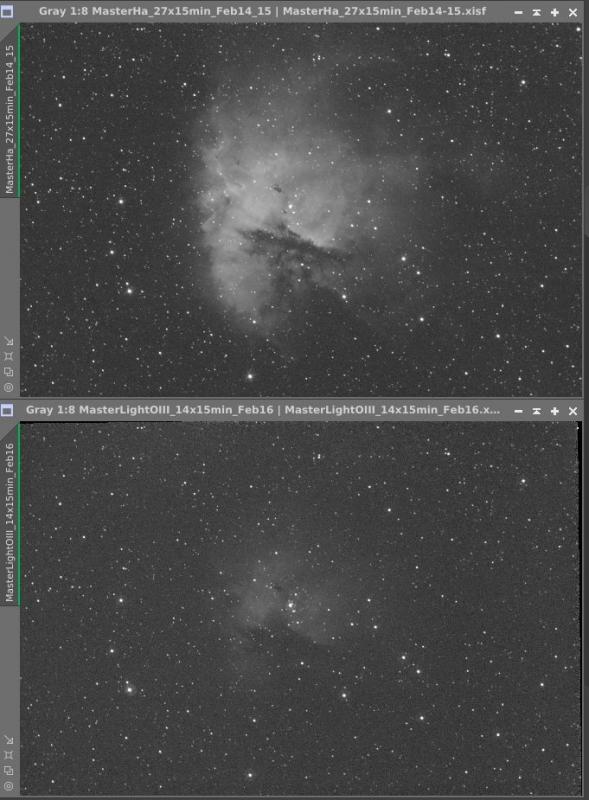 Ha is 27 x 15min, Baader 7nm, OIII is only 14 x 15min, Baader 8nm. OIII is taken through thin fog like clouds, quite some background. All close to full moon. The moon was on it's way to gemini, quite far away from pacman.
I did a quick processing just to see how what it might look like. Used Ha as R, OIII as G and B (HOO) and then made an LRGB combination using a slightly boosted Ha as L.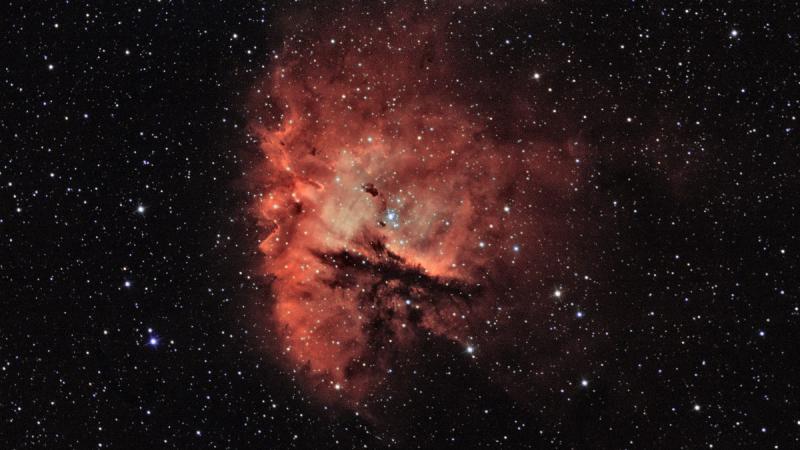 Now my long list of questions:
- Is this what is going on in OIII in the object? Could someone post a "good" OIII master, please?
- Is 3.5h just far to short?
- Is it true that NB works under the full moon with a sky as bright as my flat panel? Or should I shood OIII in moonless nights?
- How far from the moon should the object be for good results? (I learned when the moon light hits the front lens of the refractor I can forget it. I have not tried how the RC responds to it.)
- Are there any objects more suitable for a beginner / DSLR user? I guess dumbbell is very strong in OIII. I read goofi's NB list (https://www.cloudyni...s-for-the-fall/) I do not know if the list contains objects with significant signal in Ha, OIII and SII or if some objects have only one or two of them.
- Is there a book or list with information which object emmits what? Is there a book about NB imaging in general?
- Is SII making a big difference? Can I shoot SII with an uncooled camera at all? So far I did not get that filter. I was expecting SII is even weaker than OIII.
The above image is basically an Ha image. OIII just adds signal to the stars and to my very big surprise the stars do have different natural looking colors. In the nebula it is nothing but a bit brightness added in the center. Is this what the pacman really looks like or am I doing something wrong?
Thanks for helping!!
Edited by the Elf, 17 February 2019 - 06:47 AM.