Hello All,
since we dont have any clear skies (for the last month or so) and wont have any until maybe June, I wrote a Stellarium script to simulate running a Messier Marathon which I would like to share with you, have you try it out and give me some feedback (like you always do

).
The script shows how each M object would be selected based on the Messier Marathon Field Guide by Harvard Pennigton, it shows the sky and the location of the object as well as the stellarium supplied default image (in the bottom right corner)
unzip the zip file and copy the script file to the scripts folder under your Stellarium installation/distribution
Then you can run the script from the Stellarium GUI by going to the Configuration window then click on the scripts tab..should be the first script amessier_marathon_sim click on that and it should run.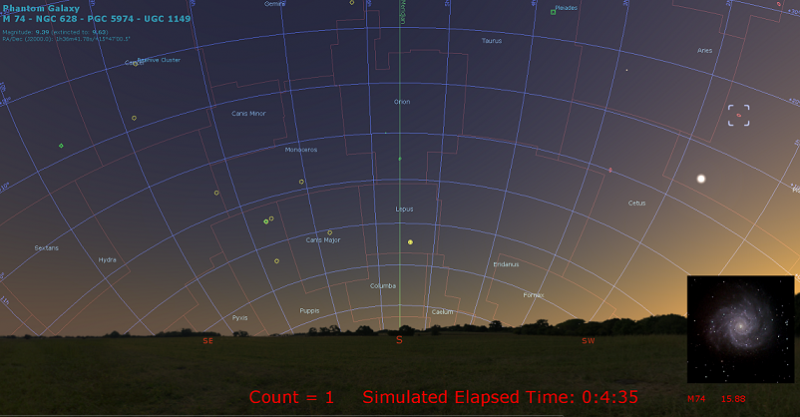 There are some issues with the image files..
// NOTE: in the stellarium folder "nebula" some Messier image files have
// names like m17spano.png(for example),this script is will only find image
// files with the shortened name m17.png so to fix the issue, make a copy
// of the original file and rename it to the shortened version
m17spano.png ->copy->paste->rename-> m17.png (do this for he dozen or so messier image files that are not named in the shortened fashion..
Also if you want audio sounds, unzip the sounds.zip file and place those files in the "audio" folder of stellarium
And enable the sounds by using NotePad and changing the amessier_marathon_sim.ssc file line 13 from..
var MM_SOUND_SUPPORTED = false;
Change it to
var MM_SOUND_SUPPORTED = true;
I have probably missed some details so bear with me, send me comments, good luck your so lucky to have clear skies..
Oh , the script zip file is too big for this post so I ll attach it to a second post..