I can't use my telescope at the moment as I'm waiting for a replacement part.
I decided to use the time to create a master set of bias, darks & flats for the new camera.
I can't take an actual star sub at present, however, I needed a way to test if my bias, darks and flats are up to the future calibration task.
Correct me If I'm wrong or just being stupid but if I calibrate the original flat subs against the masters & bias and dark that I created and the output comes out white as in the screen shot does this donate that your calibration integrations have a good chance of working?
The screen shot on the right is the field as captured with the camera raw and the picture on the left is the calibration result when a stack of 13 of the original subs are calibrated then integrated. There is a bit of dark spotting in the calibrated frame as I used a 5 minute dark against a 12 second sub but it might illustrate the point.
This is a full calibration using bias, dark & dark flat corrections.
Let me know your observations.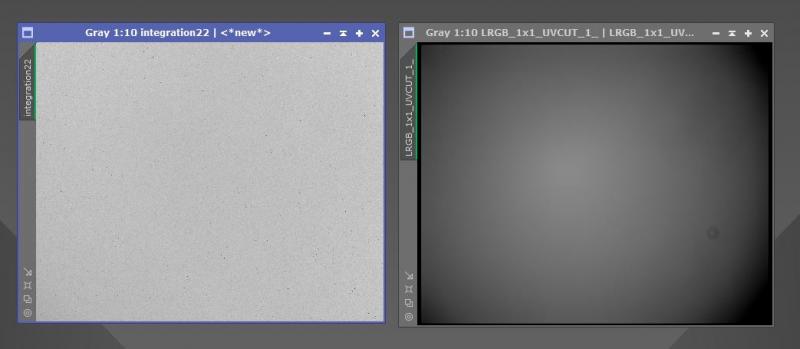 Edited by pyrasanth, 17 February 2019 - 05:01 PM.