Hi,
Here is a mars report performed on 17th last with the 127mm apo refractor.
Average to less images were met at the eyepiece.
Thaumasia was bright with the red filter, solis lacus was not seen (but the seeing presence), The south pole area appeared slightly witish, Eridania was whitish clear.
The north pole area exhibited again a whitish hood spreading on the terminator.
A whitish hazze was spreading on the volcano area, tharsis and olympica at the limb.
Globally the limb was bright on the red channel all along the limb on a thin width.
The atmosphere looked misty on the limb.
Difficult to say more in first due to the seeing level and second due to the disk size.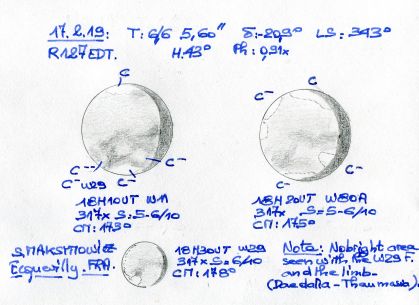 Here is the report of Uranus performed with the 127mm refractor and the 235mm cassegrain.
Images were poor to average in the 127mm average only on very short times in the 235mm.
The pole appeared bright, the temperate zone greyish, darker away the equator.
Difficult to say more with regards the seeing conditions, sky transparency was exceptionnal.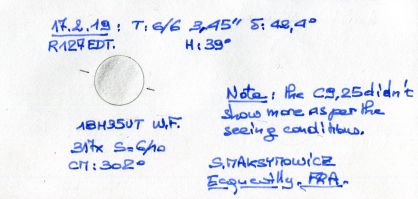 Good skies
Faithfully.
Stanislas-Jean.