G'day all,
I've been experimenting with axial chromatic reduction in Photoshop again. I've been using the green channel as a darken layer to moderate success for some time now. But it requires careful gamma adjustment to find the point where I take out star CA without affecting other colors in the image (reds in particular). And it invariably leaves ugly black circles around the stars in place of the CA ring.
Someone put me onto the Reduce Blue/Purple Halos action in Astronomy Tools v1.6, but its results are quite similar to my green layer method. I've been using Annie's Astro actions for the last few months; while it has no CA removal tool, it suddenly dawned on me this week that I could use its Remove Stars function to remove CA without impacting any reds in the image—in just four simple steps:
Duplicate Layer
Play action "Remove Stars"
Set layer mode to "Color"
Merge layer with background
Here are the three methods compared on some stars near the Running Man nebula: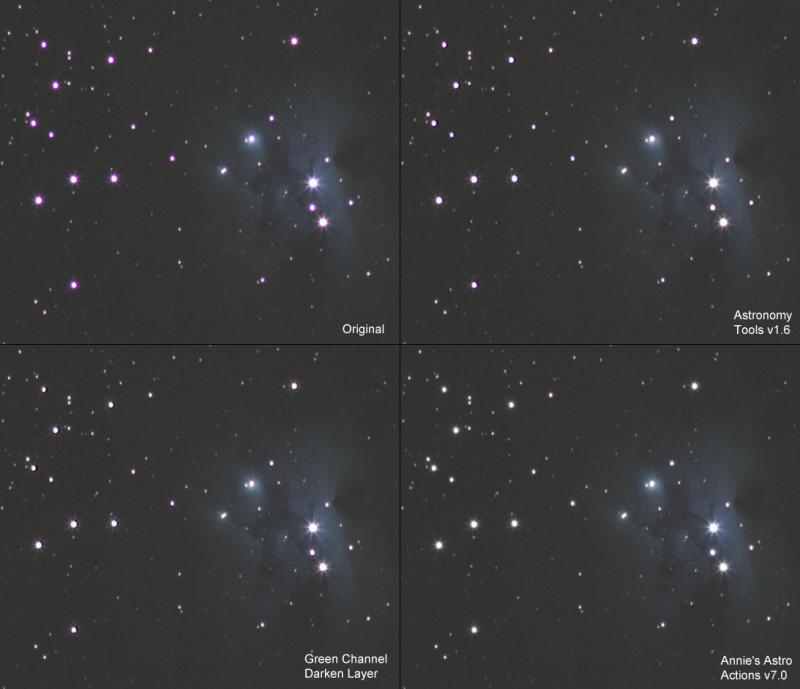 The result is a white ring around the star, which is then simply part of the star bloat (and reducible as such).
Cheers,
BQ