From Patrick SPK - (AAVSO)
Discovery details:
Discoverer: Shizuo Kaneko (Kakegawa, Shizuoka-ken, Japan)
R.A. 06h37m32.99s, Decl. -09°35'42.0" (J2000.0)
2019 Feb. 21.4516 UT, 10.4 mag (CCD, unfiltered)
My first visual estimation was done the date of the discovery : 21/2/2019 20h35 UT magn +10.4, then last night 22/2/2019 18:57 UTC magn +10.45.
This object(?) is easy to spot from every where (if weather cooperate) at the beging and until middle of the night.
Here is a sketch of the 30' field made yesterday: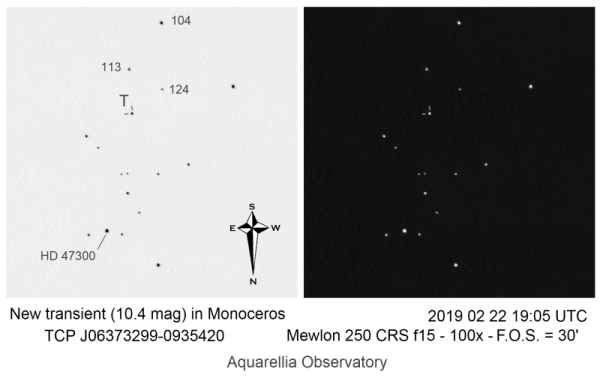 Last information from AAVSO: Photometry and spectroscopy indicate that this object shows a UGWZ superoutburst.
More information here : https://www.aavso.or...4-mag-monoceros
Michel
Edited by Aquarellia, 23 February 2019 - 06:07 AM.