On the next clear night I hope to make a sketch of the the Tau Canis Majoris Cluster - NGC 2362. Observing Tau CMa the other night as a double star I was taken by the beauty of the cluster of which Tau is a member. While I've done very little sketching it was apparent that I needed a handy source of illumination for my sketch-pad. Looking on-line to buy a cheap clip-on light, I didn't find any that utilized a dim red light. It seems like the focus was on bright white light. I know many amateurs use a headlamp type of illumination. But I decided to make my own light to attach to the top of my clipboard.
My electronic parts cache included a bunch of resistors and red LEDs. So a bit of research and testing showed a simple red light could be made from a 9-volt battery feeding a red LED with a 470-ohm 1/4-watt resistor in series. A little further online research revealed a neat little circuit that can power a red LED using a AA battery, even a "dead" one. This is the "Joule Thief". A little explanation is in order.
An alkaline battery (AA or AAA) is considered dead for most uses when its voltage has dropped from 1.5 to around 1.2 volts. In a flashlight the light would be getting quite dim. In another device (like a small radio) it would just cease to work. But such a "dead" battery still has a fair amount energy left in it. One unit of energy is the joule. Thus comes the name for this handy circuit - the Joule-Thief. It doesn't really steal or create energy. It just utilizes the energy left in a supposedly dead battery. It functions by boosting the voltage from something as low as 0.4 volts up to what is needed to run a LED light or other electrical device. It works quite well on a fresh battery, which will just last longer.
There are a lot of online references for this little circuit. So if you are at all handy with a soldering iron you might consider making your own. Here is a source for parts or assembled circuits that I have found:
Here is what the assembled unit looks like: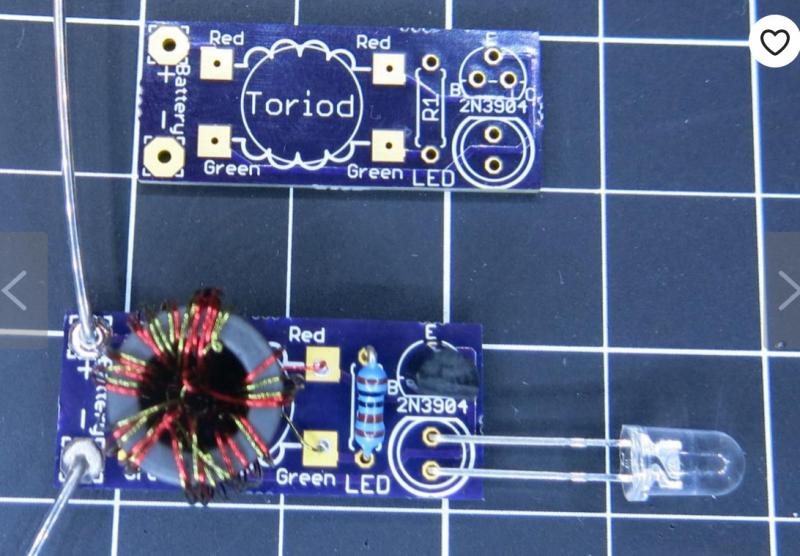 And here is a video describing how to assemble the kit:
My DIY kit is on the way. I contacted Alex, the seller of the kit, and inquired if a red LED could be substituted. He replied within hours saying the circuit would work fine with the red LED. I'll report on the results when it is all put together. These kits even include one extra transistor and two white LEDs if you want to make other Joule-Thief circuits. Here's a link showing a minimalist circuit without the printed circuit board like what is included in the kits:
I believe you don't really need the commercial toroid form for the coil. You can just bend a nail around in a small circle and wind wire around that to make the coil. The DIY kit includes enough wire to make more coils.
The Joule-Thief has been around for decades. It is really an amazing invention. On a "dead battery it is reputed to power the light for a week! I'll run a test on a fresh battery to see how long it runs on that. Such would be useful as an emergency light when the power grid is down.
Edit:
Some research on the internet shows another promising source for a kit:
This is a very bright LED light source with attached battery holder. So the light output is way too bright and the wrong color for amateur astronomer use. I contacted the vendor, inquiring about availability of a red LED version. They replied there was a red version available. At the very least the white light version would be useful for emergency use. It is interesting for that purpose, since it is a complete unit, ready for use once the kit is assembled - just add a battery and turn it on. The instruction-assembly manual can be examined on this link. Since the red LED version isn't listed on their website, I am inquiring how to order one in that color. Maybe it is just a note in the comments section when placing the order. I'll let your know what I find.
Edit:
A quick response from customer support for the red LED version:
"We have a joule thief that runs (2) T-1 or T-13/4 LEDs.
Its not a listed product, so we would have to invoice you separately for it.
$14.99 each"
The instruction/assembly sheet has a section on how to assemble the red version. There are a few changes compared to the white LED version.
According to the website:
"The EXTREME Joule Thief kit utilize a dedicated onboard 1W LED driver which can operate from voltages as low as 0.8V. There is an onboard potentiometer which can vary the output current of the driver from 0mA to 350mA. The Joule Thief kit can also run customer supplied LEDs with Vfwd voltages up to 4.4V. There is also a soft turn-on / turn-off feature incorporated into the design."
So it seems like the brightness of a red LED unit can be set to appropriate levels for astronomer usage. This is another tempting option, particularly since shipping/handling charges aren't out of line. I will likely order one of these in white light just for emergency use.
In my thinking this unit could be packaged by the end user to be quite useful out under the stars. I'm thinking some shrink-tubing could be applied over the whole device. Then cut-outs could be made for the LED, brightness adjust, battery insertion and some holes for ventilation. It wouldn't be very "elegant", but might work OK.
Note to Administrator:
Perhaps this should be moved to the ATM, Optics and DIY forum.
Edited by Rustler46, 08 March 2019 - 01:45 AM.