This weekend I captured the Orion arm and the core + Cygnus arm of Milky-way using H-alpha narrowband filter to show all the H-II regions (https://en.wikipedia...iki/H_II_region) here.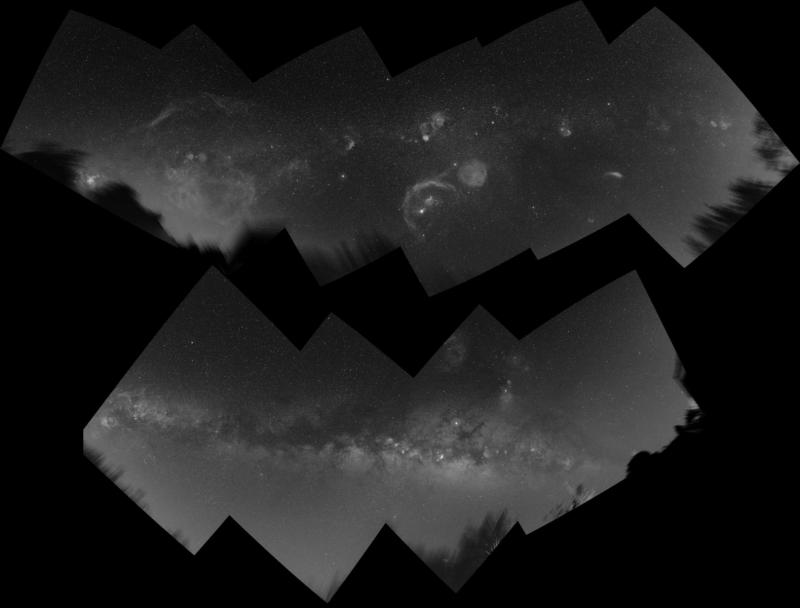 (Higher resolution: https://drive.google...xAHGgH2jBFQZJp)
I think this will be helpful to folks who want to photograph these objects. The relative brightness of all objects can be compared in these images as everything is at same exposure.
Need to annotate the images for it to be more useful.
Full resolution tiff images are here:
summer1.tiff (https://drive.google...85jWWQ7veh8h7j1) (81MB)
winter.tiff (https://drive.google...iGSkQvgu8ViT4Po) (95MB).
Captured using ZWO ASI 1600-mono-cooled camera, ZWO H-alpha filter and using the humble Canon 18-55mm kit lens @18mm and wide open.
Mount: Orion Sirius EQ-G, unguided.
6 frame panorama for winter, 4 frame panorama for summer.
Each "frame" is a stack of 7 to 18 images, each of 3min exposure.
Calibration and stacking in DSS, stitching done in Microsoft ICE.
C&C welcome.
Regards,
Mandar