Background
I have a Stellarvue SVR80ED. It's my second refractor ever—a real step-up from my lowly ST80. It is my grab-n-go and airline travel scope on a Stellarvue M2C with carbon fibre tripod. It plays backup to a fantastic 16" dob.
But... (who saw this coming?)
I think I'd be happier with a 90mm. I'm not one to own many scopes, two scopes—an 80mm for travel and a 102mm for home DSO work—isn't my jam. (Although a mentor is making me seriously reconsider with their AT102ED). It's been said many times: a 90mm is a 102mm scope with better portability. If I'm only to have one refractor, I've convinced myself that 90 is the goldilocks.
Here's where I'm at:
- Visual observer only, DSO 90%, solar system 10%
- I use extremely heavy 2" eyepieces: ES 100˚ 9mm, 14mm, 20mm and ES 82˚ 30mm
- I have a robust mount that can handle any scope in my price range, which is about $1k
- Scope must fit in my airline carry-on Nanuk 935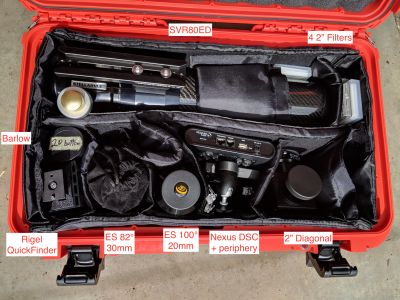 Dillema
There aren't that many mid-level 90ED options right now, much to the great sadness of many on this forum. I've eyed some used Stellarvue 90 triplets in the classifieds, but they're a bit out-of-reach financially.
As a result, I started thinking about a WO Megrez 90, but with a feathertouch to accommodate my heavy eyepieces. Those can sometimes be had for a fair price. Finally, the TS-Optics Photoline 90mm f/6.6 FPL53 Triplet Apo is travel size, but it's a triplet, which I don't need for visual. However, the triplet could be an advantage in balancing my heavy eyepieces.
I like buying used, but that's not as much of an option for the TS 90 and even the Megrez can be difficult to pry from folks (dead hands). TS has recently been having customer service difficulties with shipping damage, but I'm less worried with the TS 90 due to it shipping in its own foam case—I may even order directly from Sharpstar.
Too Long, Didn't Read (Summary)
Which 90ED ED visual travel telescope around $1k?