I just realized that even after nearly 20 years my SV AT1010 is still pretty much perfect other than the eyepiece holder at the end of the focuser drawtube, which has only the most tenuous hold on the diagonal. It's still my most-used scope, and now that I finally have a decent alt-az mount (2 of them actually, although one of them is afraid of the cold which is a problem in Canada) it seems like a perfect grab & go scope.
It has a 2" focuser but fixed dew shield. I would have purchased it new some time around 2000 or 2001. The end of the drawtube has male threads, just under 2.2", and what seems to be 1mm pitch. To me that suggests M56x1 thread, but all the references to M56x1 thread talk about Synta and Celestron while AFAICS the AT1010 had a GSO focuser.
If I can get reasonable confidence that I'm measuring the threads correctly (I'll go digging around in the basement tomorrow in search of my vernier calipers) I'm thinking about adding either a ScopeStuff adapter or a Baader click-lock. This whole thing started when diagonal+eyepiece nearly fell out for the 53rd time and I thought "**** I need a Rotolock on the end there".
http://www.scopestuff.com/ss_fas2.htm
https://www.firstlig...skywatcher.html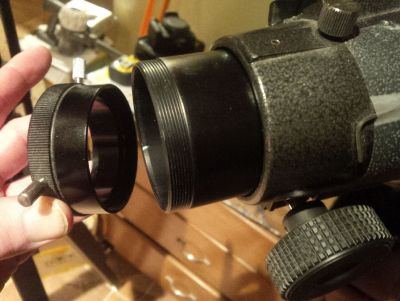 BTW I have been looking for nylon-tipped replacements for the M3 eyepiece screws but they seem pretty hard to find... nylon screws are easy but M3 seems a bit small for nylon screws and big heavy diagonal+eyepiece.
And yes I should probably un-tape that allen key from the side of the focuser but I'm leaving it there until I at least figure out what it fits. I'm starting to think it was taped there just to drive me crazy.
Thanks,
John
Edited by bridgman, 16 March 2019 - 11:22 PM.