It's hard to find visual examples of how DSO's look like under heavy light polluted skies.(I couldn't find many)
Aside from some excellent writing and a few sketches, there's not so much visual information of how you really see those objects. (Probably there are excellent books, but not everybody has them.)
This may lead to some frustration on people that live in those places like me, because it's hard to detect and watch, most of the time with averted vision, those faint DSO's. And when you think you see them, you don't know how they look like. On this quest I have to rely on my eyes, on some software, on info that I can find here on the Forum or on the Web.
Based on this I've decided to start this topic, to show how I see several DSO's using images made with software help.
For now, all observations will be made with a F/6 reflector Dob and a 25mm SP eyepiece.
I got this Dob with the help of the guys here at the Cloudy Nights Forum. With those precious hints and tips, I found the best available Telescope to my limited budget. For this I will always be grateful...
All the observations are from my facing West balcony, which has a FOV from about 180º towards South(left), 300º towards North(right) and about 70º Altitude, so I will only post images of views from this spot.

As you see, the conditions are bad, obfuscating street lights to the right, in front white buildings and on the left a building that also reflects light.
Here is the data according to lightpollutionmap.info.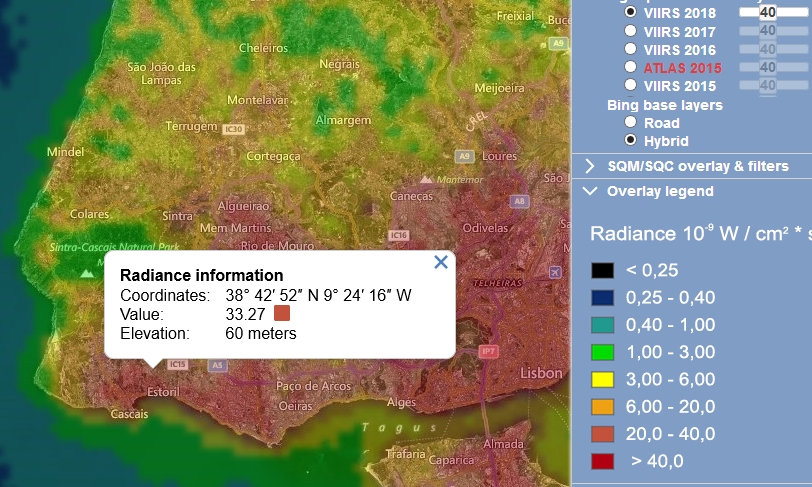 Bright as hell...

First I had to Mod my Telescope. I built an Azimuth and an Altitude Angle scale to help locating, otherwise it would take forever to find those objects. As other fellow white zone stargazers know, star hopping is not an easy thing to do on these places.
Then I built a barrier to avoid those annoying street lamps to the right, and kept all the lights off inside my house. Besides this efforts, there's not much more I can do to achieve ideal night vision.
I don't have any drawing skills to make sketches, so all the images are made using Stellarium.
I've managed light pollution and refraction/Extinction parameters to get the most approximate possible views of what I saw.
I'd say that they are pretty close, but of course real views are clearer and sharper.
Keep in mind that screen brightness and contrast may vary from user to user. Adjust it till you see the object. All objects are on the center of the eyepiece. You must use averted vision if you can't see the object, especially on galaxies.
Here is an example of how the observation images will look like. That's the Open Star Cluster M67 as I saw it, with good sky conditions.
All the images have, to the top right the Stellarium info about Scope, Eyepiece used, etc., and bellow that some data about when and how the DSO was seen by me.
I hope that these observations will give, to all those fellow beginners, a visual aid, a glimpse of what we can expect to see under these bright skies.
Alexandre
Edited by alexantos, 18 March 2019 - 12:05 AM.