I purchased my Explore Scientific 12" Ultralight Dobsonian Gen II (ESUL) telescope August 2018. I wanted a more transportable scope, than the Zhumell Z10 scope I already owned, and the ESUL seemed to be a good tradeoff between portability and cost.
I purchased the scope shipped for €1197 from Teleskope-express.de. The scope arrived well packaged in a very large box. I am not going to get into unboxing, as there are other reviews that already cover this. Also I am just going to skim over my initial impression of the scope and focus more on my long term experience, and follow up with the upgrades/modifications I made to the scope.
My ESUL included the counterweights.
My ESUL arrived without any metal shavings in the mirror box or base. I would still probably vacuum everything out though. This was an issue noted in a few different reviews. All of the included pieces and parts were in good shape and went together easily.
It should be noted that while Explore Scientific has decided to name this series "Ultralight" however these scope are far from lightweight, the 12inch /305mm scope weighs in at about 70Lbs / 32 Kg assembled. They do break down well and are very portable once unassembled.
The ESUL 12" Gen II mirror cell, secondary cage, rocker box, poles, and altitude bearings are all made of aluminum.
If you are concerned about steel/ferrous parts the following parts are magnetic on my ESUL 12":
-There are rubber edge guards on the handles of the mirror cell and rocker box, (which oddly, are on the side of the cutouts that you do not actually pick up from) that have a metal reinforcement that is magnetic.
-Springs, assembly screws, nuts and knobs.
-All threaded inserts.
-Fan grills, 12v plug.
-Secondary spider.
-2 steel plates, approximately 3/16" – 5mm that are glued to the inside of the mirror box above the fans. These appear to provide some counter weight (speculative) as they do not seem to provide any structure.
-Included counter weights and rod.
-Clasps that hold mirror box lid closed.
My initial impression:
PROs:
The 12"version of the ESUL, while not light, is very potable.
Assembles easily in the field, it gets easier and faster every time you do. I only takes a few minutes now to get everything set up.
Collimation is easy due to the primary adjustment screws being adjustable at the focuser via a plastic capped hex wrench at the end of a rod.
The mirrors are good in my opinion. It should be noted that based on a discussion with ES customer service the ESUL line of scopes, with the exception of the 20", uses GSO mirrors. There is certainly better optics available, however I would surprise to find better at this price point.
The ESUL secondary cage assembly can be rotated 45 degrees, in the event you prefer the focuser to be at a more "normal" position on the secondary assembly. You can swap to the left side as well, however at least on the ESUL 12", the finder shoe/scope will be located bellow the focuser.
The ESUL works well "out of the box".
Priced well for a portable truss dobsonian.
CONs:
Some areas that could have been better engineered/designed:
The hockey puck tensioners work to keep the mirror box centered, but provide questionable friction to keep the scope from slow dropping. You can get them to hold the scope, but it requires tightening them down and they tilt quite a bit. This could have easily been fixed by using a large washer or aluminum plate to provide the tension. They could have also made use of the two threaded hole that are available. The hockey pucks appears to be a quick off the shelf "fix" for the GEN II's, as they also use them as the feet for the scope.
The mirror box and rocker box both are held together primarily using rivets. These rivets interfere with the altitude bearings, and do not allow it to sit flush with the mirror box, at least on the 12".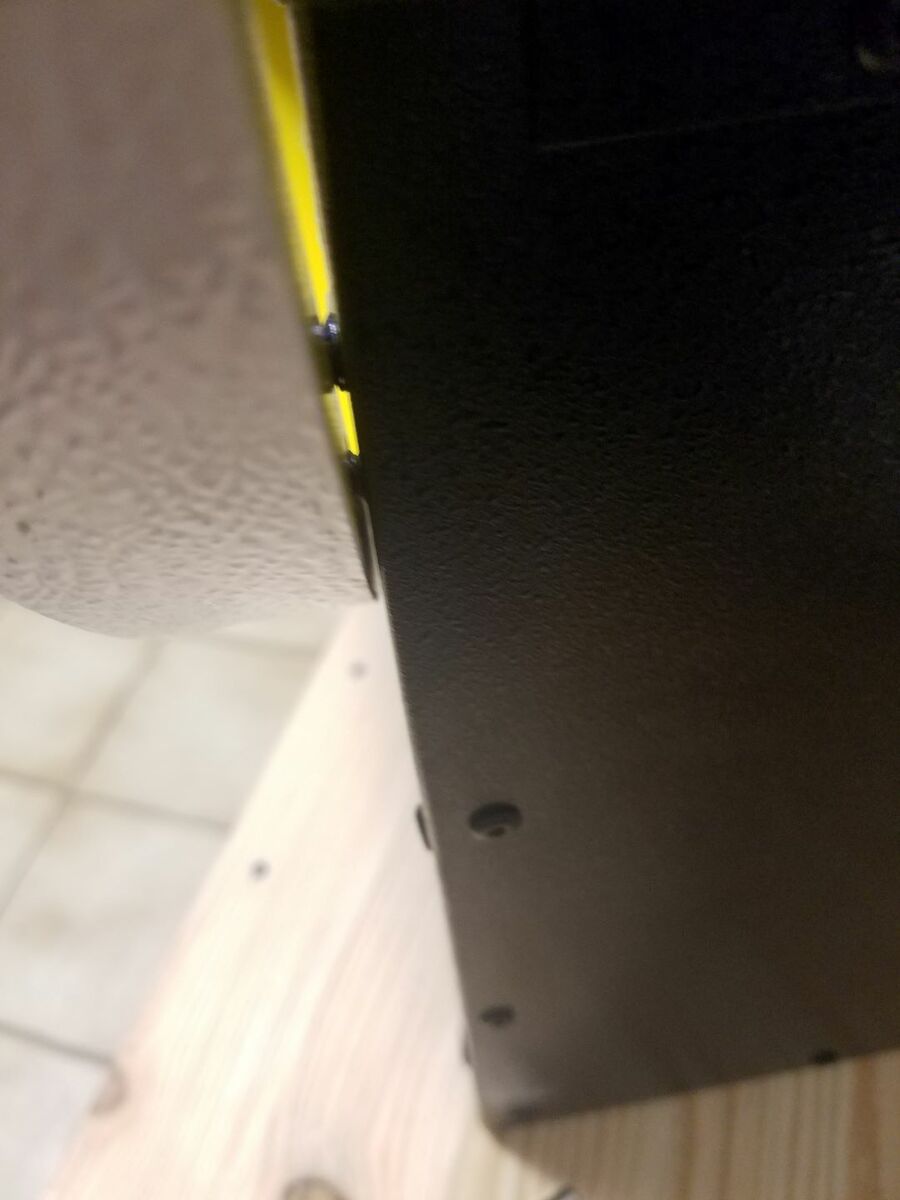 Mirror cell assemble has some slop due to the sleeves used. The adjustment bolts pass through the mirror cell, and mount to the mirror box, with springs that sit in between. The sleeves sit in the holes in the mirror cell, and are slightly longer than the thickness of the rectangular aluminum tubing used.
The rocker box is held to the foot assemble using a hollow nut and bolt. The foot assemble is made of a plate of thin aluminum attached to a triangle of aluminum tube. There is no reinforcement of the center of the triangle (or of the center bottom of the rocker box, so it flexes when the rocker box is transported.
General Issues:
Paint, at least on the secondary cage and support brackets is crappy, not sure if some parts were just not cleaned well before coating, or it is just a spray on paint and not a powder coat and a self-etching primer was not used. I pulled off entire sections when adjusting my Telrad base.
Sloppy finishing, obvious grind marks at the welds on the mirror cell. Manufacturing leftovers/buildup painted over in the corners.
The fans are very loud, and are in reality boundary layer fans. They blow across the top of the mirror, so I do not have a lot of confidence in how well they actually cool/stabilize the mirror temps.
The included red dot finder is a complete joke. It is made of a flimsy plastic, and do to the way it is assembled, the upper red dot assemble wobbles on the lower riser. It is laughably low quality, and I am shocked that Explore Scientific included it with this scope.
---Long term review August 2018 through February 2019--
After several months of ownership I am very happy with the Explore Scientific 12" Ultralight Dobsonian Gen II (ESUL). I would still recommend it to someone looking at an economical truss Dobsonian.
It does work well out of the box, assuming that you purchased the ESUL with the counterweights.
Since August I was able to get scope out approximately 15 times in varying temperature ranges from 80f/26c to 20f/-6c and the scope worked well each time.
My viewing areas are usually my driveway for quick views, which has a very narrow southern viewing area SW to NNE with a street light a few dozen feet away; and a farm field on a hill above the town, that has mostly unobstructed views of the 4 bortle sky. I was able to get to one viewing at "darkish" location with a 3 bortle sky.
Collimation has been easy and I have found it is easy to do midsession adjustments if needed. I have had a couple of times were I seems to loose collimation after long (4 hours+) viewing sessions. During shorter sessions I have had no issues with loosing collimation.
I have had no real wear and tear issues, other than chipped/rubbed paint.
My view experience has been very good; the optics based on star tests and what I have been able to see has also been very good.
Mars had more vibrant color and noticeable detail than I can see through my Zhumell Z10, using the same Ep's.
Saturn was amazing the couple times I was able to catch it with clearer banding and good detail of the Cassini division.
DSO such as nebula and clusters are really where I found the most enjoyment with the ESUL. M57 (Ring nebula) was a nice smoky little ring. M43 (Orion Nebula) was breathtaking.
M13 (Globular Cluster in Hercules) was fantastic it has always been a favorite DSO and I have viewed it more times than I can count and with the ESUL there was less fuzz, and more detailed, visible stars. With the ESUL the M13 appeared to have depth, with stars towards the center were brighter and appeared to be closer giving what seems to be a three dimensional aspect. Other fall and winter globs such as M15 were also more detailed, with less fuzziness and appeared to be more like little piles of diamonds on black felt.
Overall I am very pleased with the Explore Scientific 12"/ 305mm "Ultralight" Dobsonian. I would purchase it again, and I would still recommend it to someone who is looking for truss style Dobsonian.
I will followup with a list of updates and mods I made to the scope. I will also try and update/edit this post if needed after a full year of use (August 2019).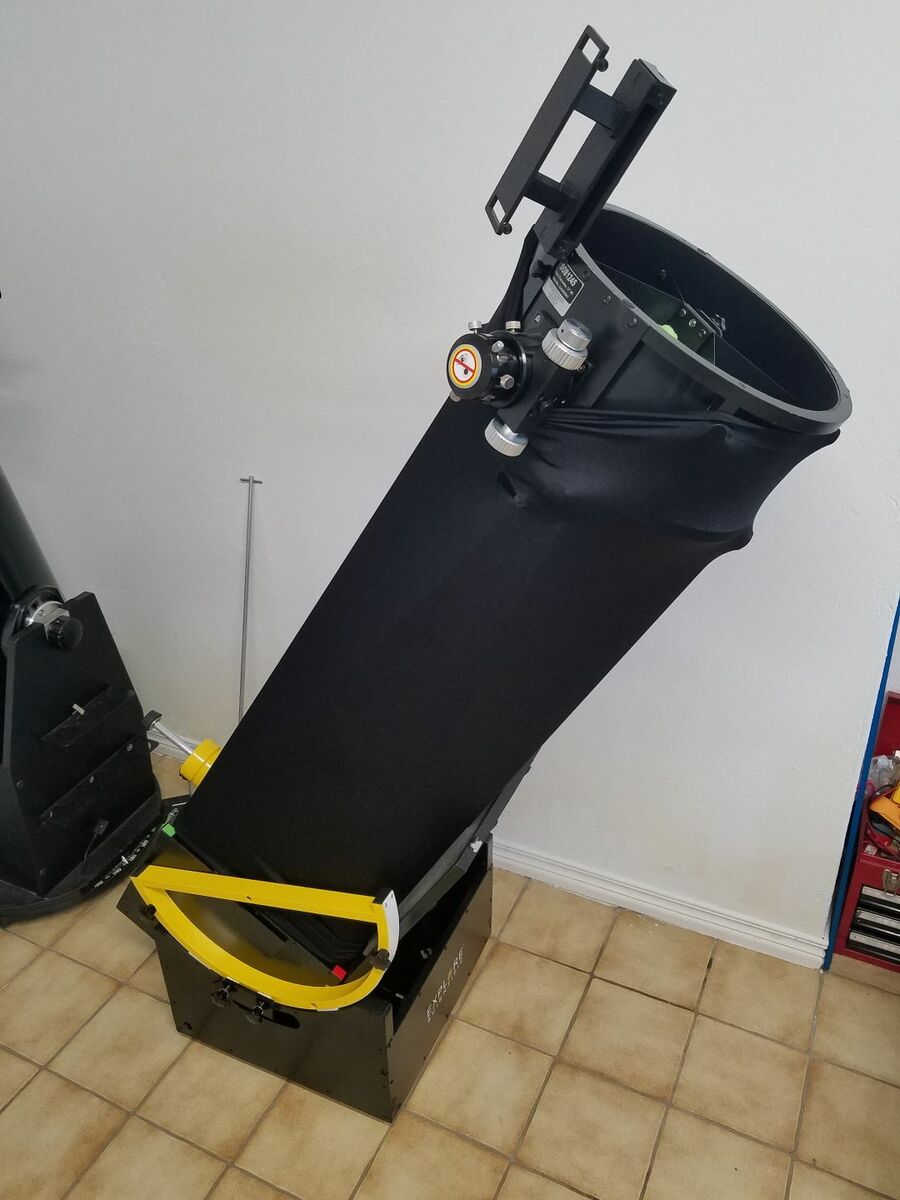 Edited by zacrobmer, 18 March 2019 - 10:05 AM.