Greetings!
I thought my fellow forum dwellers might appreciate what has been happening to me these past several nights. I've had a string of rare clear nights (unfortunately just before this here upcoming Full Worm Super Moon), and wanted to acquire frames of the following, rarely imaged galaxy beauty. Meteoblue informed me that I could expect exceptional sub-arcsecond seeing conditions such as what the website says I am to expect this very night: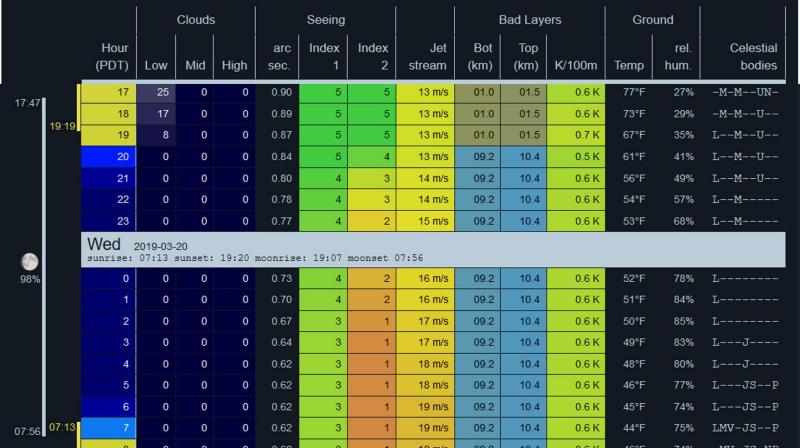 The clouds parted for me shortly after midnight the morning of Sunday, March 17th, and I anticipated the rest of that night would be turbulent, so I took my time getting everything polar aligned, guiding calibrated, camera oriented, autofocus set for LRGB filters, etc. I then decided to stay up even later and take my flats, again assuming that night would be a bit of a loss anyway in anticipation of the clear nights and exceptional seeing to come. When finished, I went ahead and started taking frames until dawn and went to bed. In the morning, I was pleased to see 29 very nice L frames of 180s, the stacking of which is shown below. This was from my C11 + 0.7x reducer + QSI 683 camera. I confidently awaited several more nights of exceptional seeing.
But for the next two nights the seeing was absolutely crummy, and that's my anticipation for tonight as well! Meteoblue has failed me! It has let me down. I am downcast. I am dejected. I am low. Next to the unexpected nice image is the result of 29 L frames at 180s from the past two nights (my absolute "best" of the bunch). Horrible. Click on the image to see it expanded so you can better compare the resolution of the L (the good night) and R (the bad nights).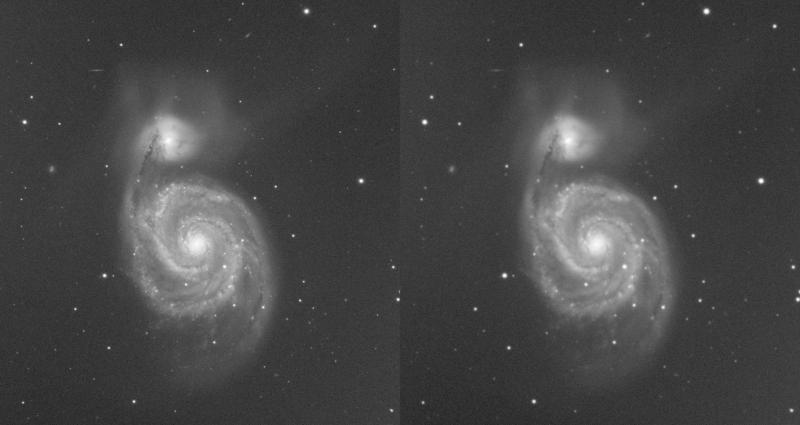 Processing consisted of calibration, stacking, cropping, linear gradient removal, auto stretching, all in PI. To give you some statistics (prior to stretching), the standard deviation of the L image comes out to be 202 ADU = 94.5 e-, the R 434 ADU = 203 e-. A measure of the largest 5 stars in each image comes out to an average size of L 2", R 3.6", almost a factor of two difference!
After the fact, I checked in with the Clear Sky Chart website, and this is what it has for tonight:

That pale blue color under "Seeing" denotes "Poor 2/5" conditions. This is certainly much more consistent with what I am actually experiencing.
In hindsight, of course, I wish I had known that this would happen. I would have skipped the flats that first night, imaged only the L filter as long as possible the rest of the night and then taken the 2x2 binned color frames during the crummy seeing. You can rest assured that I will be much more careful with these predictions in the future and will plan accordingly.
I hope to have a nice processed final version of this mystery galaxy soon, likely not using any of the L data from the following nights. This is going to be a case where I'll have much more color data than luminance data.
Perhaps my unfortunate experience can be a cautionary tale to others to not rely on just one forecast model and plan ahead better.
Take care, and may you have not only clear but still skies as well!
Best Regards,
Ben