Astrospheric
Advanced weather forecasting for North American astronomers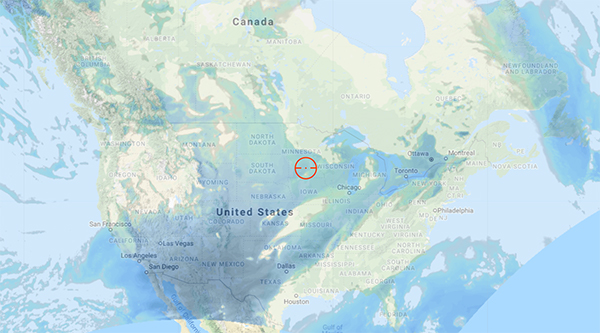 Website | Android App | iOS App


Hello fellow astronomers,
I'm excited to announce that I've upgraded the cloud forecast on Astrospheric with something I'm calling "Cloud Sense". This is a system I've been working on the past few months to help create a more holistic view of clouds and their movement near your observing location.
Since creating Astrospheric, I've kept map overlays as the most important feature of the service. Maps allow us to quickly see variability and patterns in the clouds (and other data) very quickly. The data on the map provides context to the 48 hour forecast summary also shown on Astrospheric. If a forecast says clear but the map shows clouds nearby or moving quickly, then it's probably the case that the skies will not be totally clear.
Cloud Sense looks to improve the 48 hour cloud forecast by incorporating what we naturally do when looking at the map - detect patterns. Now when you request a forecast from Astrospheric, the server will not just search the exact location you've requested, but will instead progressively look further and further away, scanning for nearby clouds. Once the spatial scan is complete, it looks at the forecast hour before an after a given time to detect the movement of the clouds it found while scanning. All of this data is then condensed into a Cloud Sense prediction. The server does this work for every hour in the cloud forecast.
There is nothing you need to do enable this feature and nothing new to learn when you look at the cloud forecast. The values will still range between 0 and 100 percent and are color coded the same way. The only real difference will (hopefully) be more accurate cloud forecasts.
To start, the changes will be rather subtle. I've got Cloud Sense running with relativly conservative settings. I plan on tuning these settings over time based on your feedback. Small steps.
Thanks for reading and Clear Skies
-Dan