Due to moving home about 18 months ago, I have had re-evaluate my observing situation. I now have a small front patio area to use so I decided to go with a very portable grab and go setup. I settled on a new SW 102 mak on the az pronto mount. Despite the slim tripod legs the setup is quite sturdy and certainly ok with the 102 ota and accessories.This mount uses manual geared slow motions and very easy to follow the object.
I use a 6x30 SW ra finder which is comfortable to use and makes locating the object very easy. A revelation quartz 1.25" diagonal and astrozap dewshield are also employed. Naturally the whole setup can be picked up and moved with great ease.
I have just come in from observing the moon and I have to say the little mak performs beautifully. I have an ES 8.8 and 11mm 82 degree, and the views are impressive with excellent contrast and very sharp. However I just acquired a rare Fullerscopes 13mm superwide plossl, which was very likely made in the 80's and from Japan, as it still has the sticker. Sporting an impressive 82 degrees and a very sharp field stop,this eyepiece gave lovely contrasty views. This latest version 102 mak does not have collimation screws but star testing shows collimation to be close to perfect and very similar in and out of focus. It was great seeing peaks illuminated along the dark terminator.
I am very happy with exceptional portability and very good performance of the scope for its size, and it was obvious the scope could easily have taken a lot more magnification, something I will consider.
Do you have a grab and go which is a pleasure to use? please tell us.
Here's a photo from this evening.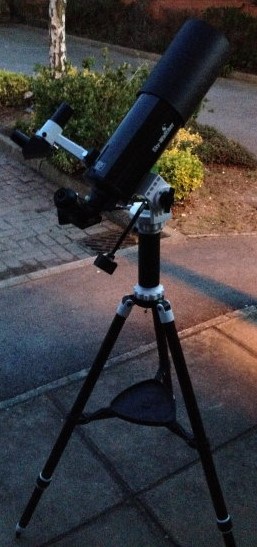 Edited by mike bacanin, 10 April 2019 - 03:47 PM.