Hello All,
I am just starting construction on my so called "Put Up/Take Down" imaging observatory. It will be named Observatory 51.

I have already run a little test by building a smaller version of my final design and have confirmed that it will accomplish all the main objectives that I require. Those objectives are...
1. Put Up/Take Down - I wanted that the construction method and materials used would end up being light enough for me to be able to set up and take down the structure all by myself. I'll be using PVC Board and aluminum square tubing to construct the observatory as both are lighter than 2x4's and plywood. They are also termite proof which can be an issue with wooden structures here in the tropics.
2. Wind Resistant - There are strong winds here nearly on a daily basis year round. The test observatory handles all daily winds without issue. To handle the winds of a hurricane, like in 2017 when Hurricane Maria passed directly overhead, I will utilize the "Take Down" aspect of the design and store the disassembled structure in my cement garage.
3. Light Block - There are street and building lights that hit the observatory. Having the walls 6' tall prevents these lights from shining directly into the telescope. I can image from 30* above the horizon and keep the telescopse within the shadows created by the walls. No stray light going down my tubes!
4. Low Cost - No bells and whistles here, just a basic design that will do the required job of protecting my equipment from the elements and provide a dedicated place to do AP. My "control room" is 25' away in the closed in half of my garage and I can "Team View" into the controls from inside my house. I will do all the construction myself and maybe/hopefully get a little help from my friends and family.
Measuring Up and Breaking Ground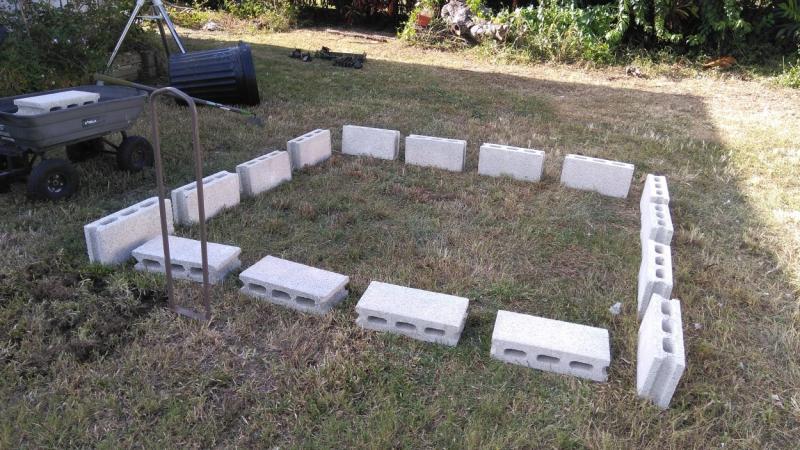 Wish me luck and feel free to follow along,

Miguel 8-)
.